Archive of news items - 2014
---
Dewey Dunnington and Ian Spooner featured in Whistler Museum speaker series

See also a more detailed announcement from Whistler.
28 November 2014
---
Dr. Chris White awarded 2014 CPTG Medal
Chris White receiving the medal from Hon. Z. Churchill, NS Minister of Natural Resources, with Michael Gravelle, Ontario Minister of Northern Development and Mines, and Greg Rickford, Minister of Natural Resources Canada looking on.

Chris White, adjunct professor at Acadia, and senior geologist at the Nova Scotia Department of Natural Resources was awarded the 2014 Provincial and Territorial Geologists Medal.
The winner of this medal is selected by an independent evaluation committee consisting of a representative from industry, academia and the Geological Survey of Canada. Chris embodies all of the best qualities in a geologist: highly engaged, incredibly knowledgeable, passionate about what he does and struggling to accept that you can't be in the field 24 hours a day, 7 days a week. He thrives on developing innovative solutions to complex geological problems, and strives to provide maximum value to government through application of his research and expertise. Chris's research output is phenomenal, comprising over 150 published maps, 100 internal publications and 60 journal publications. He has mapped the bedrock geology of approximately half of Nova Scotia and has made a considerable dent in the bedrock mapping of New Brunswick. The scope of his research is impressive spanning the spectrum from Cambrian trace-fossils, through mineral deposit modelling, to the origin of the northern Appalachians. His work has led to the recognition of new opportunities for mineral exploration, enhanced the understanding of Nova Scotia's geoheritage and helped communities deal with geohazards such as radon in homes, acid rock drainage and arsenic in drinking water.
Chris's collaboration with geoscientists from across North America and Europe has attracted numerous researchers and valuable research funding to Nova Scotia. In recognition of his scientific achievements Chris also received the 2013 Distinguished Scientist Award, the Gesner Medal, from the Atlantic Geoscience Society, and for his volunteer efforts he has received awards from the Geological Association of Canada and the Atlantic Geoscience Society. Chris is a mentor to his colleagues, a favoured advisor to students and the go-to person on all aspects of Nova Scotia geology.
6 November 2014
---
AUGC 2014
Seven students and two professors from Acadia attended the Atlantic Universities Geoscience Conference, held at the Fredericton campus of the University of New Brunswick on 23-25 October. On Thursday evening, Fletcher Club president and treasurer, Céline Porter and Thomas Bagley competed in the CSEG Challenge Bowl, taking second place. On Friday, students participated in field trips to the Mount Pleasant and Sussex areas, and toured the lab facilities at UNB.

Eileen Hasket, Céline Porter, Garth Davis, Katie McCulloch, Thomas Bagley, Hannah Sinclair, David Maguire in the conference venue.

On Saturday, the conference was given over to talks, with both Céline and Thomas presenting on their honours thesis. Judging by photos from later in the day, it was an exhausting affair!
7 November 2014
---
Visiting student from Brazil
Please welcome Mariana de Souza Carvalho to E&ES! Mariana is on exchange from the State University of Rio de Janeiro until February 2015. While at Acadia she will be working with her co-supervisor, Dr. Peir Pufahl, on the geochemistry of Neoproterozoic phosphorites from central Brazil, the focus of her M.Sc. thesis research. Mariana has been awarded a prestigious Emerging Leaders in the Americas Scholarship for her studies in Canada.
22 October 2014
---
Medal awarded to Geology alumnus Eugene Sanford
Eugene Sanford (graduate of 1951) was recently awarded a medal of France naming him a Knight of the National Order of the Legion of Honour, in recognition of his activities in Europe during WW2.
Gene Sanford joined the Canadian Army in September 1939 at age 18, serving with the 1st Canadian Parachute Battalion. After some concentrated Vickers gun training and parachuting in Camp Shilo, Manitoba, the Battalion was assigned the objectives of parachuting into the fields and woods of Normandy in protection of the eastern flank of the D Day infantry landings. Wounded by flak at the time of bailing out of a crippled aircraft Sanford also had a heavy Vickers machine gun strapped to a leg so was fortunate to have survived the landing. Bad weather during the flight put the crew many miles off track, and realizing they were nowhere near the drop area, and with enemy all around, they headed for the nearest woods and were met up with, and were welcomed into, a group of the French underground. Sanford and a friend provided the fire power for this group but as they neared Caen their presence was disclosed to a German patrol and the two paratroopers were taken prisoner and turned over to the Gestapo. Shortly thereafter they were in a box car en route to their captivity at a mining project near the Berlin.
Sanford paid a hefty price for his wartime service, but he survived the deprivations of his imprisonment, regaining his weight, and returned to Canada. After his army discharge and some high school refresher courses he enrolled in Geology at Acadia, attaining his Degree in 1951. Following graduation he spent five years with the Hudson Bay Mining and Smelting Company in Flin Flon, Manitoba. In 1955 he took employment with Sun Oil Company in Calgary, Alberta. He was transferred in 1957 to the Town of Fort McMurray, then a community of eight hundred souls, and remained there for twenty one years as the senior representative of the company. He was "Mr. Sun Oil" in the North.
Eugene Sanford returned to Calgary with the now Suncor Energy Inc. in 1979 and retired with many corporate honours in 1982. He is now 93 years of age and living in northwest Calgary. He is a master crib player, having recently won two major trophies in Nova Scotia. If you are not careful he will double skunk you in the bat of an eye!!
See also an article provided in 2010 by Eugene's brother, Bruce, a graduate of 1949.
21 October 2014
---
Gold Panning and Structural Geology at The Ovens
On the first weekend of October, a group of 23 geology, environmental geoscience and environmental students participated in an expedition the Lunenburg area. In the teeth of gale-force winds and salt spray, several were successful in panning for gold, with Kirklyn trying his hand here:

[Click on image for larger version]
Following a hike along the cliff top to view the caves at the Ovens, we visited some glacially scoured outcrops at Feltzen South, including a spectacular mushroom interference fold, partly outlined by the group here:


[Click on image for larger version]
After examining stretched worm burrows, quartz and arsenopyrite veining, and the Ovens Anticline, the group headed around the bay to Blue Rocks, and ended the day with a visit to Lunenburg to see the Bluenose II and practise hill-climbing around the town.
6 October 2014
---
Fletcher Club and Environmental Science Students Association Weekend Activities

As term gets under way and before midterms get too intense, members of the Fletcher Club and ESSA have been active exploring the region. On the last weekend of September, a group visited the Ontree Climbing Park, to practise their skills in ropework, tree climbing, and getting a head for heights. Here you can see some members happy to be back on the ground(?), while others continue to scale the ropes 10 m above them.
[Click on image for a larger version of this photo.]
By all accounts the following Monday, this event was a "hit".
5 October 2014
---
Geology on Stamps on Display
Four new displays in the corridors of third floor Huggins have been completed over the summer. Assembled by David McMullin, these displays feature the wealth of geology displayed on stamps from around the world. Featuring topics ranging from mineralogy and paleontology to the history of science, these stamps offer a glimpse into how others see our discipline. The most popular topic? Definitely dinosaurs, although minerals and gems, volcanoes, and Charles Darwin are well represented too. Some panels show sets of stamps depicting one topic - the formation of the Faroes on the mid-Atlantic Ridge, or the entire course of Earth History in a panel from Tonga. Check out the geology of Somalia which shows a somewhat enigmatic Somali plate waltzing around Madagascar and colliding with Africa (I thought it was actually going the other way!)
The displays can be seen in the north corridor of third floor Huggins, between rooms 332 and 336.
24 September 2014
---
Michael Brophy gives paper at international conference
Michael Brophy, a co-op student in Environmental Science, presented his work at the New England Graduate Student Water Symposium, held this year at UMass Amherst. This predominantly graduate student conference had participants from schools from around Canada and the US. His 15 minute presentation was on the work for his honours thesis, entitled "Characterization of Natural Organic Matter to Distinguish the Impact of Municipal Wastewater Effluent in a Source Water".
Michael writes about the experience, "The conference was a great opportunity! I learned a lot about the different water research going on at schools from Canada and the United States, and I had a lot of fun along the way. One of the best parts for me was all the feedback I got about my presentation. I had 4 different people come up to me telling me that they couldn't believe I was an undergraduate student and how my research was very interesting. I even had one person tell me that I had a very bright future ahead of me! I was so excited about all the positive comments. It really gave me confidence in what I was doing and made me feel like people really do care about the research I am doing! So, I definitely took a lot away from this conference."
Michael's work is being done as part of his co-op program, currently at the Dalhousie Faculty of Engineering, and is supervised by Dr. Graham Gagnon at Dalhousie and Dr. Jennie Rand at Acadia's School of Engineering.
22 September 2014
---
Cape Breton Field School - 2014
Seven senior students and two professors survived the rigours of the Cape Breton Island field school, 24 August to 1 September, staying at the Gaelic College at St. Anns (private rooms, meals by an interesting Danish chef, perpetual coffee, exciting hikes in the woods, lots of waterfalls).

Pictured above are Katie, Adam, Hannah, David, Dr. Barr, Jonathan, Becky and Brett, having just arrived at the Limestone Falls on Goose Cove Brook. The hike up the brook or over the hill was fairly strenuous, so some of them quickly dived into the pool to refresh.

After a week of mapping in the woods and along the shore, the group took a day trip around the Cabot Trail to examine interesting geological localities. Here Rob Raeside points out some layering while David, two Chemists and Sandra Barr look on.
2 September 2014
---
$45,000 RTI award to Nelson O'Driscoll and the CARE lab
Greg Kerr, MP (West Nova), representing the Minister of State (Science and Technology) visited Acadia to announce an NSERC Research Tools and Instruments award of nearly $45,000 to a team led by Nelson O'Driscoll, and including Mark Mallory (Biology) and Karen Kidd (UNB-SJ). The funding will be used to update equipment for analysis of mercury contaminants in air, water, soils and organisms, in particular bio-accumulative methylmercury, the most dangerous form of the element. This will help Nelson and his team to understand why some ecosystems are susceptible to mercury and will lead to better protection and preventative measures to ensure the health and well-being of Canadians.
In a short ceremony to announce the award, Mr. Kerr emphasized the importance of new discoveries in water and wetlands management that will help protect and improve our quality of life. Mr. Ray Ivany, President of Acadia University, responded that "Acadia is fortunate to have a significant number of faculty members, across several academic disciplines, who are conducting research with both local and global implications. Through funding support from NSERC and other granting agencies, and the work of Dr. O'Driscoll and his colleagues, Acadia is able to tackle some of the planet's most persistent problems while teaching undergraduate and graduate students the powers of inquiry and curiosity that will prepare them for the future."
As part of the ceremony, Nelson was able to show Mr. Kerr and other visitors around the KC Irving Environmental Science Centre, and introduce them to the work being done in the CARE.
1 August 2014
---
Dewey Dunnington makes the news in BC

Seen in the Whistler Question, a report on the thesis research by Dewey Dunnington, who is studying the paleolimnology of Alta Lake, Whistler, BC. As part of a two-year project,with the Resort Municipality of Whistler and Cascade Environmental Research Group, Dewey is investigating the history of the lake by collecting samples with a gravity corer, which samples an undisturbed core of lake sediment, offering a peak into the past. He is also interviewing locals about their use of the lake, hence his appearance in the local newspaper.
9 July 2014
---
Acadia Geology student playing Canadian Football in Montreal
Kyle Graves is experimenting with his non-geological talents this summer. He has been recruited by the Montreal Alouettes to play in the CFL as a receiver. Having played with the Alouettes for two years, he has been transferred from the quarterback position that he played on the Acadia football team to the receiver position where he is now being reported to excel by the Montreal Gazette. With lines like "primed to earn a roster spot", "he's a real project", "You find ways to get guys like him on the field. Then their real talents come out", and "he's a smart player. We expect a lot out of him", it seems he is making his mark on the football field.
30 June 2014
---
Acadia Faculty and Students at the GAC-MAC, Fredericton
Faculty and both current and former students from Acadia were prominent among the 650 participants at the annual meeting of the Geological Association of Canada (GAC) and Mineralogical Association of Canada (MAC) in Fredericton, NB, in late May. Talks and/or posters were presented and/or co-authored by professors Sandra Barr and Cliff Stanley, and MSc student Vincent Beresford, and Cliff Stanley presented a one-day short course following the meeting. Both Sandra Barr and Rob Raeside were busy with various council and committee meetings for 2 days before and also during the 3-day conference. Sandra Barr was also co-leader on a post-conference geological field trip in the Saint John area looking at some of the oldest rocks in New Brunswick. Some high-lights of the technical programme (other than the talks by Acadia faculty!) were keynote addresses on Geoscience in Canada, by out-going GAC president Richard Wardle, the address by Logan Medalist Andrew Miall titled "The environmental management of unconventional resources: lessons learned from the oil sands", and a plenary address by Andrew Kerr of the Geological Survey of Newfoundland titled "Holmes and the indelicate question: Measuring the depth of time with the clocks of the Earth" which was a history of the development of human understanding of the age of the Earth. The algal structures in the photograph below from Green Head Island in the city of Saint John, NB, area are 700 million years old, just youngsters in the 4.6 billion year history of our planet.
4 June 2014
---
31 Graduates in Earth and Environmental Science at May Graduation
It may have felt as cold as field school on graduation day, 2014, when 31 BSc degrees were recognised at the May convocation at Acadia. Pictured below are some of the happy faces at the graduation breakfast on 12 May.

[Back row, L-R: Ben Misiuk, Mike Reid, Melanie Plante, Kyle Jennex, Corey Hamilton; front row: Raelee Rath, Courtney Wilson, Lewis Mahon, Jillian Bennett, Celine Porter, Adam Godfrey, Andrew Fage. Click on image for larger version. Photo by Ian Spooner]
Particular honour went to Ben Misiuk, winner of the University Medal in Environmental Science, and Mike Reid, winner of the University Medal in Geology and recipient of the Mining Society of Nova Scotia Centennial Medal.
13 May 2014
---
Nova Scotia Museum Research Grant to Laura MacNeil
Congratulations to Laura MacNeil! Laura has been awarded a Nova Scotia Museum Research Grant for her M.Sc. thesis research. Laura's thesis focuses on the paleoecology of the Early Carboniferous Windsor Group and is co-supervised by Drs. Peir Pufahl (Acadia) and Melissa Grey (Joggins Fossil Institute). This is quite an accomplishment since seasoned researchers are normally the recipients.


13 May 2014
---
With Spring Comes Field School
Over 50 students participated in the second-year field schools in Earth and Environmental Science this year. Conducted locally to start, then venturing out to locations at the Morton Centre and the Antigonish area, students participated in hands-on learning exercises in a diverse range of lithologies and environments.
Pictured above is the Geology field school atop the big rock at Arisaig, from where we could view the geology of the western coast of Antigonish County. [Photo: D. McMullin, click on image for larger version]
Below is part of the Environmental Science field school, preparing to analyze samples in the KC Irving Environmental Science Centre. [Photo: E. Mann]

5-8 May 2014
---
Earth and Environmental Science celebrates the end of term
Students and faculty in the Earth and Environmental Science department joined in a delicious pot-luck dinner in the Curling Club on 28 March. Apart from the great food, some highlights were the trivial game (won by the Hard Rockers, who totally trounced all other tables!), a slide show reminiscing on the events of the year, and recognition of award winners through the year.


Pictured above (L-R) Amanda Loder (winner of Science Atlantic Communication Award and Linda Lusby Award), Ben Misiuk (winner of AGS Rupert MacNeill award), Lisa Mundry (winner of Science Atlantic best presentation award), Monica Reed (co-winner of Linda Lusby Award), and Justin Drummond (winner of Sandra Barr best graduate presentation award). Missing from photo: Céline Porter, winner of Harcourt Cameron Award).
31 March 2014
---
Science Atlantic (Environment) Conference
The 2014 Science Atlantic (Environment) Conference was held at St. F.X. University on 15 March. Speaking at it from Acadia were Lewis Mahon, Amanda Loder, and Monica Reed. Congratulations to Amanda, the winner of the Science Atlantic Best Communication Award at the conference! Her presentation was on trace metals in gastropods in the Border Marsh region of NB-NS; Lewis spoke on biotransport of trace elements by colonial birds to the islands in the Eastern Shore Wildlife Management Area; and Monica on the monitoring of fish and porpoise in the Fundy FORCE area near Parrsboro.
17 March 2014
---
Roger Tomlinson, 1933-2014
Roger Tomlinson, Doctor of Science honoris causa Acadia, "father of GIS", died on 9 February. Dr. Tomlinson was a member of the class of 1960 and at one time taught physical geography at Acadia. After he left Acadia he made a career in the field of geographic information systems (GIS) - hence the attribute "Father of GIS". Shortly after his graduation, while working in Kenya, Roger conceived of the need for overlapping but integrated mapping of forests, and he later developed this into the geographic information systems we know today.
Dr. Tomlinson has had a varied career, working from Ottawa on projects as diverse as the realignment of the Alaska Highway, forestry practices in Canada, USA, Africa, and landscape changes in the Brazilian rain forest. He received the Gold Medal of the Royal Canadian Geographical Society, a place in the GIS Hall of Fame, and was appointed as a Member of the Order of Canada.
Many graduates from Acadia science programs have him to thank for the transformation of the NS Survey School in Lawrencetown into the Centre of Geographic Sciences, one of the leading institutions in the study of GIS, remote sensing and Geography in Canada.
20 February 2014
---
Atlantic Geoscience Colloquium - Wolfville, 7-9 February
A very successful weekend conference has concluded at the Old Orchard Inn and Acadia University. Almost 180 delegates from all the Atlantic provinces, and visitors from Ontario, Alberta, BC and Texas, participated in the colloquium, with special themes celebrating the 50th anniversary of the Society's journal, Atlantic Geology, and on offshore Nova Scotia geology, environmental geoscience, paleontology and the Joggins site. All sessions were well subscribed, including a display of 28 posters.
Acadia Students Sweep the Presentation Awards at the AGS Colloquium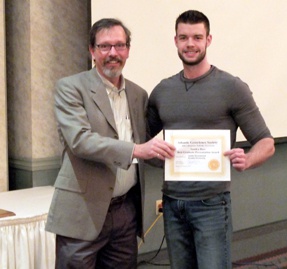 (above) Ben Misiuk receives the Rupert MacNeill award for best oral presentation by an undergraduate student; (below) Justin Drummond receives the Sandra Barr award for best oral presentation by a graduate student.

Awards are given for the best posters and oral presentations at the conference. Winner of the best presentation by an undergraduate student was Ben Misiuk, a final year Environmental Science student, whose paper "A comparative study of anthropogenic impact on dimictic lakes in Halifax regional Municipality, Nova Scotia: Implications for restoration and management" was co-authored by Drake Tymstra, Ian Spooner and Chris White. The best paper by a graduate student was Justin Drummond, whose paper "Neoproterozoic peritidal phosphorite, Sete Lagoas Formation, Brazil: Implications for the Precambrian phosphorus cycle" was co-authored by Peir Pufahl, Claudio Porto & Mariana Carvalho.
Ian Spooner awarded the Laing Ferguson Distinguished Service Award

Ian Spooner (left) receives the Laing Ferguson award from Rob Raeside

At the closing banquet for the conference, the Society made two awards. The Laing Ferguson Distinguished Service Award was given to Ian Spooner, in recognition of 20 years of service to the Society, including the organization of at least four colloquia in Wolfville, and significant contributions to almost all the other annual colloquia in Halifax, Moncton, Saint John and Fredericton. The Gesner medal was given to Cees van Staal, Geological Survey of Canada, following a citation read by Sandra Barr. Finally Sandra graced the delegates with a comprehensive and insightful review of the fifty years of the journalAtlantic Geology. She revealed a few secrets in her address, including the fact that she participated in the preparation of volume 2, almost fifty years ago! A nice touch was provided by the Inn, with celebratory cookies for the fiftieth.
The events concluded on Sunday morning, with a Wikithon to update Wikipedia with local geological information: see pages created on theAtlantic Geoscience Society, Atlantic Geology, and Blue Beach.
9 February 2014
---
Prof. Reg Moore, 1932-2014

Dr. Reginald Moore, former professor at Acadia University, died on 2 February in Kentville, NS. Reg grew up in southwestern Ontario, and graduated from University of Western Ontario before going to the University of Michigan to complete his PhD. He and his wife Pat moved to Wolfville in 1960, and he taught at Acadia until he retired in 1992. Reg's interests were soundly based in the Windsor Group, which generations of students from Acadia will well remember for their exercises and assignments making endless thin sections or peels of limestone. One of his students commented, "Certainly a most "memorable" professor. I TA'd for him, and in a perverse way, rather enjoyed it. He certainly gave me the latitude to develop the labs in the way I saw fit! I will never forget the first sentence of a first question on one of his exams… "Explain the etymology of the titular words". To which I had to raise my hand and ask him to explain everything after the word "explain"!"
Following his retirement, Reg donated his extensive collection of materials from the Windsor Group (some 32 cabinets) to the Nova Scotia Museum, and embarked on a second career of learning languages, living for periods in Greece, Cuba and Mexico. Although Reg has been retired for 22 years, he is well known to many students since then, often seen working in his garden in front of Kent Lodge, Wolfville's oldest house.
[photo by Wendy Elliott, The Advertiser]
4 February 2014
---
Environmental Science curlers to the Canadian Junior Championship

[Photo: The Chronicle Herald]

Two students of Environmental Science make up half the Nova Scotia team at the Canadian Junior championship, being held in Liverpool, NS, in January. Robert Mayhew (skip) and Michael Brophy (third) have played before in the Canada Games, and look forward to playing on home rinks in the Juniors. The competition runs for about 10 days, so we hope they are taking plenty of material to read during their time off the ice!
15 January 2014
Update: The team is featured on http://www.curling.ca and are standing at 4 wins - 1 loss so far.
Further update: Michael Brophy, Third, has been named to the First All Star Team at the 2014 Canadian Junior Men's and Women's Curling Championships. Congratulations Michael! Team Nova Scotia (Robert Mayhew Skip) finished in 5th in the Championship Pool standings. Congratulations Robert and Michael!
25 January 2013
---
Trip to Bedford Institute of Oceanography
This past week, the ESSO club took an afternoon trip to the Bedford Institute of Oceanography. Students received a tour of the facility and learned about a vast range of subjects including invasive species, tides and dispersion modelling, ocean acidification, ocean climate change, and Arctic and Atlantic sediment cores. Thank you to the scientists who gave us the opportunity to learn about their research!
13 January 2014
---