Archive of news items - 2013
---
Lisa Mundry wins Science Atlantic Prize at AUGC


Congratulations to Lisa Mundry and Mike Reid, honours students in Geology, who, along with eight other participants, represented Acadia at the Atlantic Universities Geoscience Conference at St. FX University on 24-26 October. Mike prepared a poster on the petrology and geochemistry of the Stirling Belt, Cape Breton Island, and Lisa gave a talk on the comparison of the petrology, chemistry, and age of mafic sills in the Harlech Dome, Wales, and the Meguma terrane, Nova Scotia. Lisa won the Science Atlantic Prize for the best paper presented at the conference.
27 October 2013
---
Pat Englehardt in Alaska


Between June and August Patrick Englehardt took part in the Juneau Icefield Research Program (JIRP). JIRP is an annual program which was started in 1948 by Maynard Miller. Every year since students have been attending this research program studying the Juneau Icefield which is located in Alaska, British Columbia and the Yukon Territory. The program's main focus was the continued mass balance research which is the second longest record of its kind in the world. "Overall it was an amazing experience, whether it was the Alaskan beauty, digging 18 foot snow pits or conducting original research my summer couldn't have been better." Any questions or further information on the program can be found on the JIRP website http://juneauicefield.com/ or feel free to email me at any time at poenglehardt@gmail.com.
22 October 2013
---
Elderkin Brook Clean-up

[Click on image to see the full lot of garbage!]
Elderkin Brook (located in Kentville) is frequently visited by the Earth and Environmental Science Department during class field trips, and has been known for its gruesome state. That is why the ESSO and Fletcher Clubs went out to this site on Saturday, October 5th to clean it up. It was evident that people have been throwing their waste in this brook for many years. Items removed included shoes, electronics, carpet, styrofoam, pipes, bottles, and plastic. A tremendous thanks to all volunteers!
8 October 2013
---
Fletcher Club Fundy Fall Field Trip
The Fletcher Club took advantage of a fine weekend on 21-22 September to take a field trip around the Bay of Fundy, stopping at the Triassic unconformity at Rainy Cove, the red sandstone at Burntcoat Head, the iron mines, slag piles and displays at Londonderry, the fault zone rocks of Clarke Head, the Jurassic sandstone of Five Islands, and the always impressive columnar basalt at Cape d'Or. Mornings were spent exploring beach outcrops, in afternoons they sought higher ground (high tide in mid-afternoon!), and on the second day hiked into Economy Falls. In the photograph above, the entire group, with leaders Sandra Barr and Rob Raeside are seen by the fly-wheel in the iron mining display at Londonderry.
29 September 2013
---
Fletcher and ESSO hike Cape Split
The ESSO and Fletcher clubs took advantage of the beautiful weather last weekend by hiking out to Cape Split. The trip was a multi-disciplinary outing, including students from Environmental Science, Geology, Environmental Studies and Biology. The hike was a success, being both scenic and refreshingly windy out on the Split.
Stopping at The Lookoff on top of North Mountain we took a group photo in front of the sunny Annapolis Valley. We hope to make this the first of many collaborative ESSO and Fletcher activities for students this year.
20 September 2013
---
"Water Without Borders" - book published by Alice Cohen
"Water Without Borders? - Canada, the United States, and Shared Waters" co-edited by Emma S. Norman, Alice Cohen, and Karen Bakker has been released by University of Toronto Press.
Since 1909, the waters along the Canada-US border have been governed in accordance with the Boundary Water Treaty, but much has changed in the last 100 years. This engaging volume brings together experts from both sides of the border to examine the changing relationship between Canada and the US with respect to shared waters, as well as the implications of these changes for geopolitics and the environment. Water without Borders? is a timely publication given the increased attention to shared water issues, and particularly because 2013 is the United Nations International Year of Water Cooperation.
Water without Borders? is designed to help readers develop a balanced understanding of the most pressing shared water issues between Canada and the United States. The contributors explore possible frictions between governance institutions and contemporary management issues, illustrated through analyses of five specific transboundary water "flashpoints." The volume offers both a historical survey of transboundary governance mechanisms and a forward-looking assessment of new models of governance that will allow us to manage water wisely in the future.
- from the publisher's website
19 September 2013
---
National Award to Cliff Stanley
Dr. Cliff Stanley was made a Fellow of Geoscientists Canada, the national council of professional geoscience associations that regulate the profession of geoscience in each of the jurisdictions in Canada, in recognition of his volunteer service to Geoscientists Canada, and before that the Canadian Council of Professional Geoscientists. Cliff has been a member of the Canadian Geoscience Standards Board and a councillor for Geoscientists Nova Scotia (formerly the Association of Professional Geoscientists of Nova Scotia) since 2000, and a member of the admissions board for APGNS since 2001.
In a short ceremony at Acadia on 16 September, Jeff Parks (Acadia grad of 1987 and president of Geoscientists Nova Scotia) presented Cliff with a certificate to recognise the fellowship.
18 September 2013
---
Environmental Science student participates in the Sikorsky Human-Powered-Helicopter competition
Rian Mizzi, a Burlington, Ontario, based second year Environmental Science student assisted as a volunteer the University of Toronto-based team attempt to win the $250,000 Sikorsky Human-Powered-Helicopter prize...and the team pulled it off! Rian can be seen fleetingly in the video at http://www.youtube.com/watch?v=syJq10EQkog that documents the first minute-long human-powered helicopter flight to achieve 3 metres height. So enthused was he by the experience that he is now preparing to bicycle back to Acadia for the fall term - from Ontario! If you are driving east this summer, look out for an Acadia jersey going the same way.
29 July 2013
---
Welcome to Dr. Alice Cohen
A new face in the department this summer is that ofDr. Alice Cohen, assistant professor in Environmental Science and Environmental and Sustainability Studies. Alice has been at Acadia for a little while, providing a course in Politics (Environmental Politics - POLS 3883), which she will offer again this year, along with Legal Issues in the Environment (ENVS 3113), Introduction to Environmental Science (ENVS 1023), Sustainability Concepts and Systems (ESST 1003) and Applied Leadership in Sustainability (ESST 2003). Alice holds a PhD from UBC, and has been a post-doc in Massachusetts before coming to Acadia.
She is off to a good start this year, with the announcement of receipt of a SSHRC Institutional Grant for work on Ecosystem governance and resource development in Northern Canada. In the application for the grant, Alice wrote, "Although ecosystems are often thought of as natural spaces, the process of delineating ecosystem boundaries and designing governance mechanisms for these spaces are often highly contested and political processes. This is especially true in places where resource extraction and development form a central component of local, regional, or national economies because neither ecosystems nor resource extraction areas are spatially aligned with traditional spaces of decision-making such as municipalities, territories, or provinces. This research is a pilot project designed to explore the ways in which ecosystem spaces are articulated and implemented in response to resource extraction and development in Northern Canada."
Congratulations Alice - it sounds like you will have opportunity for interesting discussions with the geologists in E&ES - we are very familiar with issues caused by political boundaries, and the notorious map-boundary faults in mapped bedrock geology!
18 July 2013
---
Report from the Field - Steven Kramar
Steven is working in northern Saskatchewan this summer and was recently visited by his supervisor, Cliff Stanley who reports that Steve is now an ACE-Boater, having passed his 'boating test', and is now certified to 'skipper' pleasurecraft on any of Canada's waterways (as well as write a thesis on the geochemistry of rocks in the Trans-Hudson Orogen!)
15 July 2013
---
Ian Spooner takes over as Department Head
July 1 marks the start of a new academic year at Acadia, and with it a change-over in the headship of the Department of Earth and Environmental Science. New at the helm is Dr. Ian Spooner, taking over from Rob Raeside, who has been head since 1995 (although with a few absences when he was acting Dean of Science). Ian has been teaching at Acadia since 1994, so is no stranger to our procedures, but no doubt it will take us all a few weeks to get used to the new office arrangements on the third floor of Huggins Science Hall.
1 July 2013
---
Paper by Acadia Researchers Highlighted by Journal
A recent paper by researchers in Nelson O'Driscoll's lab, including students and post-docs Tom Sizmur, João Canário, Sam Edmonds and Adam Godfrey has been selected as the featured article in the current edition of Environmental Toxicology and Chemistry. Their paper investigated how polychaete worms increase mercury lability and methylation in sediment from the Bay of Fundy. Their paper can be found at http://onlinelibrary.wiley.com/doi/10.1002/etc.2264/abstract
12 June 2013
---
28 Graduates in Earth and Environmental Science at May Graduation
Brilliant sunshine greeted the graduating class of 2013, where a total of 23 BSc degrees, 3 MSc degrees, and two honours conversions were recognised at the May convocation at Acadia. Pictured below are some of the happy faces at the graduation breakfast on 13 May.


[Back row, L-R: Patrick Englehardt, Ben Bagnall, Luke Melanson; front row: Victoria Postlethwaite, Emily Walker, Kat Voy, Josh Caines, Amanda Jones, Katrina Zealand, Michael Terris. Click on image for larger version. Photo by Kaycee Morrison.]

Particular honour went to Patrick Englehardt, winner of the University Medal in Environmental Geoscience; Emily Walker, winner of the University Medal in Environmental Science; Kat Voy, winner of the University Medal in Geology and Josh Caines, recipient of the Mining Society of Nova Scotia Centennial Medal.
14 May 2013
---
Environmental Science Field School
The ENVS field school was completed again this year between April 24 and May 4. The multidisciplinary field school emphasized practical skills in geological mapping, entomology, limnology, biogeochemistry, and environmental impact assessment. Students learned techniques and quality control in sampling and analysis within a variety of ecosystems (coastal wetland sediment, forested catchments, soil, and freshwaters) across Nova Scotia. Many thanks to this year's instructors (Dr. Spooner, Dr. McMullin, Peter Romkey, Dr. Hillier, and Dr. O'Driscoll).
7 May 2013
---

An international class of 16 students just returned from Acadia's biennial Bermuda Field Course taught by Dr. Peir K. Pufahl. Students from Canada, the United States, New Zealand, and Brazil learned about the modern and Pleistocene carbonate sediments of Bermuda using the world-class facilities at the Bermuda Institute of Ocean Sciences. A primary aim is to understand the sedimentology and diagenesis of carbonate hydrocarbon reservoirs. The picture above shows students investigating various reef facies.
7 May 2013
---
Geology Field School 2013
The Geology field school enjoyed several days of fine weather as the participants learned about the techniques of geological mapping and maybe just a dash of local geology as well. Pictured above are 18 Acadia students and one professor, and 4 participants from the University of Saskatchewan who joined us for the two week exercise. Students spent the first week in the Wolfville area, honing their skills before going to Camp Geddie at Merigomish where they worked on the geology of shoreline of the Northumberland Strait and the Canso region. This picture was taken at Lumsden Dam.
6 May 2013
---
Shelburne-Yarmouth Field Trip
Sandra Barr led an enthusiastic group of Acadia students on the annual Shelburne-Yarmouth field trip on April 17-18. Unlike most years, the sun shone and temperatures were tolerable, adding to the enjoyment of the spectacular igneous and metamorphic rocks of the Meguma terrane. Emphasis of the trip was on stratigraphy, structure, and metamorphism, with a bit of Quaternary geology here and there. Stops on Day 1 began with the contrast between the pyritiferous Cunard and underlying manganiferous Moshers Island formation at Dublin Shore and concluded with the spectacular andalusite porphyroblasts near the wind farm at Pubnico Point. Jungle Jim's in Yarmouth no doubt lost money on the all-you-can eat wings that night! Day 2 included visits to the lowest exposed beds of the Goldenville Group, the no-longer so enigmatic contact between the Halifax Group and White Rock Formation, the metavolcanic rocks of Cape Forchu, the Silurian fossils in the Overton section, and a quick stop at the folded sills at Bear River. All-in-all, a great 2 days – and most of us managed to avoid too many close encounters with ticks.


Part of the crew admiring the massive bedded metasandstone of the Green Harbour Formation at Green Bay.
22 April 2013
---
Lusby and Cameron Awards to student club presidents
At the year-end pot-luck banquet held in the Wolfville Curling Club on 5 April, the winners of the peer-elected Lusby and Cameron awards were announced. Winner of the Harcourt Cameron Prize, given to a student "who is a member of the Fletcher Geology Club, whose achievements merit praise" was Christiane Theriault. This past year Christiane was president of the Fletcher Club and responsible for ensuring things got done. The award was made by Dr. Raeside.
Winner of the Linda Lusby Award, given to "a graduating student whose support for the Environmental Science Program merits praise" was Patrick Englehardt. Pat has been president of ESSO (Environmental Science Students Organization) in 2012-13, and active in it throughout his Environmental Geoscience program studies. We were pleased that Professor Emerita Linda Lusby, was able to attend and make the award.
15 April 2013
---
Vincent Beresford receives GSA Award
Vincent Beresford, Geology MSc student in the Department of Earth and Environmental Science, has been awarded a prestigious research grant from the Geological Society of America to support his thesis project. Vince's thesis project, supervised by Professor Sandra Barr, is a study of field relations, chemistry, and age of plutonic rocks in the Bass River block, part of the Cobequid Highlands of northern mainland Nova Scotia. He will use his data to help interpret the geological history of the Bass River block and its relationship to the major part of the Appalachian mountain belt known as Avalonia. He will begin field work and sampling for his project in late May. Vincent is a graduate of Juniata College in Pennsylvania and began his graduate studies at Acadia in September, 2012. The reviewers of his grant application judged his project to be "well-conceived" and a "huge task for a MSc study", but "definitively worth doing." The primary role of the highly competitive GSA research grants program is to provide partial support of MSc and PhD thesis research in the geological sciences for graduate students at universities throughout North and Central America.
11 April 2013
---
Trinidad Field Course
From February 23rd to March 2nd, 3rd year student Christiane Theriault and graduate student Steven Kramar had the opportunity to participate on a Petroleum Geology field course in Trinidad. Led by Dr. Grant Wach, they studied sedimentary depositional systems pertaining to petroleum exploration. Fieldwork during the day was reinforced by nightly assignments, relating outcrop scale sedimentary features to larger scale features to better understand the geology.
It was a great challenge, but very rewarding. Dr. Grant Wach is a fantastic instructor, providing a wealth of knowledge. Dr. Wach guides students through a complete picture of Trinidad's tectonics, geology, petroleum systems, ecology and culture. Thanks again Grant for allowing Acadia to attend!!!
Group shot at the Petrotrin Geological Facility. (Front: Second from left; Steven, Fourth from left; Christiane)
28 March 2013

---
Science Atlantic Environment Conference, 2013
Acadia University and the local organizing committee (Drs. O'Driscoll, Stokesbury, and Avery) hosted the Science Atlantic Environment Conference this year which was once again combined with the Biology and Aquaculture and Fisheries conferences. There were over 175 conference attendees and good fun was had by all. Keynote lectures were given by Dr. Mark Mallory (Arctic Research) and Dr. Fred Whoriskey (Ocean Tracking Network). Several Acadia students presented in the Environment session including Adam Godfrey, Ben Callaghan, Drake Tymstra, Erin Mann, Lauren Banks, and Patrick Englehardt). Adam Godfrey won a best oral presentation award for his work on mercury speciation with salt marsh restoration.
Adam Godfrey, Drake Tymstra, Katrina Zealand, among others, in the conference classroom.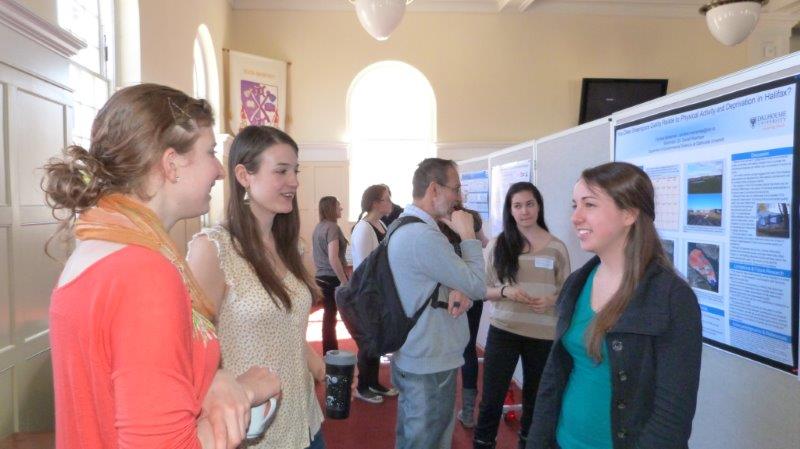 Amanda Loder and Monica Reed discussing posters.
Patrick Englehardt looking happy about lead in the Border Marshes.
26 March 2013
---

Acadia Athletics celebrates 2012-13 season with Awards Night
The 2012-2013 Outstanding Male Athlete of the Year was awarded to senior football player Kyle Graves (BSc GEOL student). For the second consecutive season, quarterback Kyle Graves was named as the Atlantic University Sport most outstanding player. Graves led his team to another 7-1 record and was also named an AUS All-Star and CIS All-Canadian as both quarterback and punter. Kyle, who attended the Montreal Alouettes training camp this past summer, is now sixth in all-time passing yardage with 5,433, third in Acadia school history. He wraps up his five-year career in the top ten of every career AUS passing list. He ranks fourth in career completions, fifth in attempts and his 39 career TD passes are 10th all-time.
Congratulations Kyle!!
22 March 2013
---
Alumni Accomplishments
Recent communications from two of our alumni show they continue to aspire to new heights and depths.
Amy Tizzard (class of 2003) achieved a life-long goal of ascending Kilimanjaro in February. Her reports home were full of exciting snippets of her sojourn in Tanzania, encounters with wild beasts, and fantastic shots of the mountain from below, on top and above.
Gerard Eddy (class of 1993) has been involved in composing and running an education module called Gold rush 4net program, the results of which he and Warren Dobson showcased at Geomatics Atlantic 2012. This program introduces junior high school students to Gold Prospecting/Mining, Surveying, Geologist and Geomatics industries through a series of educational games, like in SIFT.

(left) Amy Tizzard on Uhuru, the summit of Kilimanjaro; (right) Gerard Eddy showing how to pan for gold at The Ovens, Lunenburg.
5 March 2013
---
Graduate Student, Justin Drummond, highlighted on Discovery and OurAmazingPlanet
Peir Pufahl and colleague Claudio Porto of the Federal University of Rio de Janeiro have teamed up with MbAC Fertilizer Corporation to help the Brazilian company find phosphorite. Phosphorite is a poorly understood chemical sediment that is the primary source of phosphorus for fertilizer. It holds important clues to understanding the ancient phosphorus cycle and the evolution of life. The collaboration with MbAC is the focus of Justin Drummond's and Mariana de Souza Carvalho's M.Sc. thesis research in central Brazil. Click on the links below to Discovery News and Our Amazing Planet for more information!

Justin Drummond and Mariana de Souza Carvalho, M.Sc. students of Pufahl and co-supervisor Claudio Porto, in the field looking at economic phosphorite in central Brazil.
28 February 2013
---
Josh Caines at the Halifax Boat Show
Josh Caines, completing his honours project in Geology, was invited by the Halifax International Boat Show to give a presentation on his work (or as they call it, his "detective investigations") into the erosion of the islands in Mahone Bay. Josh discussed the management and engineering strategies that focus on limiting coastal erosion, and the ecological and social impacts not only of the actual erosion but of the these strategies. He worked with the Bluenose Coastal Action Foundation (BCAF) last summer who have taken on this Preliminary Study of Coastal Erosion in Mahone Bay and the results of the investigation will help to understand the importance of the Mahone Bay islands and how erosion will affect communities in the area.
27 February 2013
---
Atlantic Geoscience Society annual colloquium
Over 20 Acadia students and most of the faculty attended the annual colloquium of the Atlantic Geoscience Society, held this year in the Holiday Inn in Dartmouth, 1-2 February. Four Acadia students presented the results of their research: Josh Caines provided a poster, co-authored with Ian Spooner and Brooke Nodding on "Influence of hydrostratigrpahy on erosion of drumlin islands in Mahone Bay, NS"; Patrick Englehardt spoke on "Lead accumulation in open water wet ecosystems in the Border Marshes region, NS-NB" with co-authors from the E&ES and Biology departments at Acadia, Ducks Unlimited Canada, and the NS Dept. of Natural Resources; Nabil Shawwa gave a paper with Rob Raeside and David McMullin on "Employing contact metamorphism to assess the conditions of pluton emplacement in southwestern Kellys Mountain, Cape Breton Island, NS"; and Jason Willson gave a paper with Cliff Stanley and John Murimboh on "Fine grained gold analysis in soil samples: a strategy to avoid the nugget effect".
Many students also participated in one of the two short courses given: The Application of Fluid Inclusions to Geology, and Oil and Gas Exploration Principles in Mature Basins. and some were able to take in the Nova Scotia gold exhibit currently on display in the Art Gallery of Nova Scotia. On the Saturday afternoon, those not yet exhausted were able to view the film "Switch - the Ground-Breaking Documentary" on our energy transition.
At the annual general meeting of the Society on Saturday, the usual reports were recorded, and Cliff Stanley was elected to the position of vice president, launching him on a three-year trajectory through the elevated ranks of the presidency in the next couple of years. At the closing banquet, Chris White (Acadia alumnus of 1984) was honoured with the Gesner Medal, the Society's highest honour, in recognition of his contributions to the geoscience of Atlantic Canada, most notably the recent release of over 50 map sheets of southern Nova Scotia.
10 February 2013
---
Geology and Environmental Science Newsletters for Alumni
The new year has begun, students are back in classes, courses are under way again. Over the break we found time to collect a few items for (and from) our alumni, and have published them in our newsletters. Click on the Newsletters above to find out what has been happening in Acadia Earth and Environmental Science in 2012.
16 January 2013
---