Archive of news items - 2012
Geology and Environmental Science Newsletters for Alumni
The new year has begun, students are back in classes, courses are under way again. Over the break we found time to collect a few items for (and from) our alumni, and have published them in our newsletters. Click on the Newsletters above to find out what has been happening in Acadia Earth and Environmental Science in 2012.
16 January 2013
---
Acadia and Fleming College sign a transfer agreement
Graduates of the Sir Sandford Fleming College's Earth Resources and Environmental Technician programs can now enter the third year of designated Bachelor of Science degree programs at Acadia University thanks to an articulation agreement signed between the two institutions on Nov. 16. Upon meeting all of the necessary requirements, Fleming Earth Resources Technician graduates can enter the third year of Acadia's B.Sc. Geology degree while Environmental Technician graduates can enter year three of the B.Sc. in Environmental Science. This agreement will ensure an easy and efficient transition of qualified students from both programs to Acadia.
"This agreement formalizes a long‐standing tradition of Fleming graduates going on to complete degrees at Acadia," says Linda Skilton, Dean of Fleming's School of Environmental and Natural Resource Sciences. "We believe this will attract more students to Fleming with the opportunity to complete both a diploma and degree. There is also the prospect of attaining more work-related experience through Acadia's Co‐operative Education program."
Over 40 students have in the past come from Fleming to Acadia, starting as early as 1985. Currently about ten students from Fleming are in program at Acadia. Programs at both schools have evolved over this time, permitting the smooth transfer arrangements now in place. More details can be found on entry from Sir Sandford Fleming, and the news release can be viewed.
26 November 2012
---
ESSO / Fletcher Club Fall Walk
From left to right, Simon Poirier, Brendan Brady, Sabrina Hiefer, Amanda Loder, Alex Squires, Victoria Postlethwaite, Kaycee Morrison, Zachary Jewkes, Kevin Rupke, Drake Tymstra.
A group photo from a Fall walk in the Kentville Ravine trails. This fun little hike/field trip was organized by ESSO and had student presenters talking about the local environment, water quality, geology, importance of vegetation and invertebrates and what not. ESSO and Fletcher Club, hope to host more student field trips next term. Some future trips might include gold panning, mine tours and winter hikes to look at the winter ecology.
29 November 2012
---
SETAC Conference, Los Angeles
Dr. O'Driscoll's students Adam Godfrey (BSc ENVS) and Erin Mann (PhD MUN) attended the Society of Environmental Toxicology and Chemistry (SETAC) annual conference in Long Beach, California. Adam presented a poster on mercury speciation in coastal sediments with wetland restoration, while Erin gave a platform presentation and poster on mercury photoreactions in Arctic snow. Dr. O'Driscoll chaired a successful full-day mercury platform session and poster session with colleagues from Portugal and Ottawa (Dr. Canario and Dr. Poulain). Highlights of the trip included keynote addresses by world experts on toxic chemicals, a visit to the Long Beach Aquarium, and running into an impromptu "Backstreet Boys" concert in Los Angeles.
21 November 2012
---
AUGC 2012
A large and enthusiastic group of students and faculty members Robert Raeside and Sandra Barr attended the 62nd annual Atlantic Universities Geoscience Conference (AUGC) on October 25-27 in Halifax, hosted by the Dawson Geology Club at Dalhousie University. The AUGC is a student-run conference that brings together undergraduate students from Acadia, Dalhousie, Memorial, St. Francis Xavier, Saint Mary's, and UNB for competitions, field trips, oral and poster presentations, and social events, under the umbrella of Science Atlantic (although the conference predates Science Atlantic and its predecessor APICS by 12 years, and is one of the longest running conference events in Canada, having been initiated in 1950). The Acadia student team of Harris Ohland and Josh Caines placed second in the Challenge Bowl competition on Thursday evening, a geoscience-knowledge quiz event sponsored by the Canadian Society of Exploration Geophysicists. On Friday students participated in various of the four field trips offered.
At the formal presentations on Saturday Acadia was represented by oral presentations from honours students Josh Caines (An Investigation of factors influencing drumlin erosion in Mahone Bay, Nova Scotia) and Drake Tymstra (A Paleolimnological record of anthropogenic impact on water quality in First Lake, Lower Sackville, Nova Scotia), both supervised by Dr. Ian Spooner, and poster presentations by Nabil Shawwa (Employing contact metamorphism to assess the conditions of pluton emplacement in southwestern Kellys Mountain, Cape Breton Island, Nova Scotia - supervisor Dr. Rob Raeside) and Jason Willson (Strategies to avoid the nugget effect in soil samples from the Fifteen Mile Stream Gold Deposit, Nova Scotia - supervisor Dr. Cliff Stanley). Professor Sandra Barr was one of the speakers at the closing banquet held at Murphy's on the Water on Saturday evening, at which a great time was had by all participants. Her theme incorporated recognition of the 50th anniversary of Science Atlantic/APICS, wherein she reflected on the 37 AUGCs she has attended, and on the good luck and bad luck she has employed to advance her studies in Geology.
25 October 2012
---
Fall Graduates in Earth and Environmental Science

At the October meeting of the University Senate four degrees in Geology programs were declared. Three of these were graduate students. Hilary White (above left) completed her thesis on lake sediment records from the Chignecto Isthmus area earlier in the summer; Louis Zsamboki (centre) defended his thesis on geophysical modelling of the ocean areas between Cape Breton Island and Newfoundland early in September; and Ronald Massawe (above right) finished his thesis on alteration processes associated with gold mineralization in Eritrea shortly after. In addition, a BSc degree was awarded to Dustin Menard, who left Acadia some time ago, without finishing that last Arts elective - having succeeded in a course in WW2 history, he was eligible to graduate also. We hope to see some of them back for the graduation ceremonies in May.
17 October 2012
---
Peir K. Pufahl joins Sedimentology editorial team
Peir Pufahl joins the editorial board of the journal Sedimentology, an international leader in its field. Sedimentology publishes ground-breaking research from across the spectrum of sedimentology, sedimentary geology, and sedimentary geochemistry. Peir's expertise in chemical and applied sedimentology strengthens an impressive editorial team. These and his other editorial duties with Sedimentary Geology, another leader in the field of sedimentary research, will certainly keep him busy.
16 October 2012
---
Nelson O'Driscoll renewed as Canada Research Chair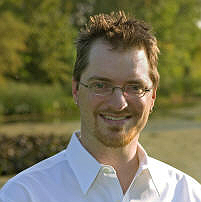 Canada Research Chair in Environmental Biogeochemistry, Dr. Nelson O'Driscoll, has been renewed as a Tier 2 Canada Research Chair, as announced by the Honourable Gary Goodyear, Minister of State (Science and Technology). The chair is valued at $500,000 dollars over five years. "By investing in talented people through programs such as the Canada Research Chairs, our government is supporting cutting-edge research in Canadian post-secondary institutions," said Minister of State Goodyear."
The overarching theme of Dr. O'Driscoll's work involves studying the impact of climate change on mercury contamination in freshwater ecosystems. Using one of the best-equipped mercury biogeochemistry labs in North America, Dr. O'Driscoll and his team are able to analyze the effects of temperature, precipitation, and solar radiation on mercury reactions in air, water, soils, and organisms. Other research by Dr. O'Driscoll's team has shown that terrestrial organisms in these mercury sensitive ecosystems may also be at risk. They have published some of the first data to suggest mercury as a factor in the rusty blackbird's reduced numbers. A doctoral student in the O'Driscoll lab is studying the impact of ultra-violet radiation on the release of mercury from Arctic snow. In addition, a recent doctoral student developed methods to measure the release of mercury from soil, allowing the Acadia researchers to develop a predictive model for mercury release with climate change.
Dr. O'Driscoll's environmental biogeochemistry lab is part of a comprehensive state-of-the-science analytical facility housed in Acadia's K.C. Irving Environmental Science Centre. The Centre for Analytical Research on the Environment (CARE) brings together multidisciplinary researchers and equipment for studying environmental contaminants and processes that support health ecosystems. Researchers at the centre examine aspects of contaminant fate (e.g. mercury, trace metals, organic materials, and microbes) and how to mitigate contamination issues. The facility has enhanced collaboration at Acadia and increased partnerships with private enterprises, government, and other post-secondary institutions.
For more information read the Canada Research Chair media release.
12 October 2012
---
Department trip to Cape Breton Island
Twenty members of the Earth & Environmental Science Department participated on a weekend trip to Cape Breton Island. Led by Sandra Barr and Rob Raeside, and sponsored in part by the CSPG, the group travelled across the island including a day on the Cabot Trail, a trip down a subduction zone in the Bras d'Or terrane, torrential rain and pounding surf on the Mira terrane, and rocks ranging from plutonic and volcanic to clastic and carbonate to metamorphic. Here the group was viewing the Precambrian Blair River Inlier from the MacKenzie Mountain lookoff, when it managed to pull itself together just long enough for a group shot by Deanna vanRooyen, who joined us from Cape Breton University.
17 September 2012
---
Oyster shells and squashed cups: recent donations to E&ES
Over the past few weeks the department has been the recipient of several interesting donations. Rock samples and fossils have been given to us by Dr. David Mossman, formerly at Mt. Allison University, and Mrs. Pearl Dodds, from the collection of Dr. Don Dodds, past Dean of Science at Acadia. Most recently, we received a collection of giant oyster shells from Shane Thomson, who acquired them from the estate of Stewart Ferguson, a former associate of the department who, after retiring from the Ontario Geological Survey, spent much of his time in the Wolfville area hunting for outcrops and clues to the geology of the area, and compiling detailed geological maps. Stewart was famous for following power company crews as they put in new power lines, to find what the augers extracted from the ground, trying to pin down exactly where the Horton contact or the Kentville slate lay. At one time he also ventured far out north of Evangeline Beach on a falling tide to distant shoals where piles of giant oyster shells were to be found. These are relict from the time when sea level was higher, following the melting of the ice sheets, but before glacial isostatic rebound reached its modern levels, probably about 3700 years ago. Below are some of the shells from the collection.

[click on image to see the whole shell]
Finally, final year student Christiane Theriault has just completed a co-op term research cruise on RV Atlantis, out of Woods Hole, Massachusetts, where she was involved in the mapping of the deep ocean floor, off the continental shelf. To demonstrate the effects of water pressure at 5 km depth, she attached a normal styrofoam cup to the sonar equipment and sent it down. Above you can see the result - the normally 12 cm high cup has been reduced to about 3 cm height!
13 September 2012
---
Senior Field School, 2012
Six senior and graduate students enjoyed the fine weather and fair winds of Cape Breton Island at the senior field school in late August/early September. Pictured above at waterfall 5 on Goose Cove Brook (from left) are Vincent Beresford, Luke Melanson, Patrick Englehardt, Nabil Shawwa, Josh Caines, Osiris the dog with owner Maryann, and Steven Kramar. Maryann has provided us with access to her hiking trail to Goose Cove Brook, and joined us for the day to find out what we really do up in the hills.
4 September 2012
---
Welcome to new technician, Pam Frail

The E&ES Department is pleased to announce that Pam Frail has joined our staff as technician. Pam studied Geology at Acadia and went on to the business world, most recently setting up P J Crow Designs, an art and jewelry business. Pam is a juried member of The Designer Crafts Council of Nova Scotia and past board member of the Wolfville Farmers Market. In her earlier days at Acadia, Pam also operated the petrographic preparation centre (alias "rock room"). She looks forward to getting the equipment up and running again, after its rest over the summer.
27 August 2012
---
EcoCanada Environmental Professional Forum, Moncton
Four Environmental Science students from Acadia attended an Environmental Professional forum in Moncton, NB this June. The event was hosted by EcoCanada and served to connect Environmental Professionals from around the Atlantic Provinces. The morning and afternoon consisted of workshop sessions, paired with a networking luncheon. One of the two morning workshop sessions available to participants was directed by three members of a steering committee charged with drafting recommendations for responsible environmental management of oil and gas activities in New Brunswick. A brief overview of this industry in the province and the likelihood of future development was discussed, as well as some of the technical aspects of fracking in New Brunswick. Issues regarding well casing integrity and surface water contamination were included in the discussion. One of the main concerns voiced by the professionals attending the workshop was the lack of independent testing of environmental samples. The second morning workshop, directed by Don Fraser, reviewed the framework of ISO 14001, expanding on its potential to assess and control performance and risks related to issues such as social responsibility, sustainable development and climate change. The session also reviewed the audit methodology of ISO 19011 and its 2011 revisions.
The networking luncheon included a keynote speech by David Parkinson, focussing on the successful inclusion of environmental concerns in industry over the course of the past two decades. The luncheon provided an opportunity for the students to meet professionals in the industry and gain advice on how best to enter an environmental career.
In the afternoon, all students attended a roundtable covering the benefits of certification as an environmental professional and the process involved. Additionally, details of the Atlantic Chapter were discussed with volunteer leads. Ultimately, the forum provided insight into the current climate of the environmental sector in the Maritimes.
Drake Tymstra, Monica Reed, Victoria Postlethwaite and Emily Walker at the forum.
August 2012
---
Don Osburn retires from Acadia
After nearly three decades as technician in the Geology/Earth and Environmental Science Department, Don has decided it's time to enjoy some of life's other "small fine pleasures". In the summer university assembly he was recognised along with 8 other retirees for his long term in the department - some 70 masters students and 100 honours students owe some part of their theses to his skills, and all of us will miss him.
Don and Rob Raeside at the General Assembly
12 June 2012
---
Sandra Barr receives $4000 in funding for paleontological research
Through a grant from the Nova Scotia Museum, Sandra Barr received an award of $4000 to be used in collaboration with Teodoro Palacios to be used for further research on acritarchs in the Cambro-Ordovician rocks of Nova Scotia. Using the acritarchs, they are able to refine the ages of sedimentary rocks from the Meguma and Avalon terranes.
Sandra received the cheque for $4000 from Ramona Jennex, MLA for Kings South.
8 June 2012
---
40 Graduates in Earth and Environmental Science at May Graduation
In what is likely the largest graduating class in the department's history, a total of 35 BSc degrees and 5 MSc degrees were recognised at the May convocation at Acadia. Pictured below are some of the happy faces at the graduation breakfast on 14 May.
[Back row, L-R: Vincent Murphy, Andrew Nette, Nabil Shawwa, Stu Clow, Shaun Todd; front row: Dewey Dunnington, Allison Healey, Kelli Armstrong, Randal Evans, Sara Akin, Kaycee Morrison, Sarah Sweet]
Particular honour went to Amanda Isnor, winner of the University Medal in Environmental Geoscience; Kaycee Morrison, winner of the University Medal in Environmental Science; Mariella Nalepa, winner of the University Medal in Geology and the Mining Society of Nova Scotia Centennial Medal; and Sara Akin, winner of the Governor General's Gold Medal for excellence in graduate studies.
15 May 2012
---
Linda Lusby Award to Randal Evans
The inaugural Linda Lusby Award to "a graduating student whose support for the Environmental Science Program merits praise" was awarded to Randal Evans at the year-end Earth & Environmental Science banquet in April. Randal is a native of the Ottawa Valley, and has been active in the Environmental Science throughout her stay at Acadia, and president of the Environmental Science Student Organization in her final year.
Picture above are Linda Lusby and Randal Evans at the graduation breakfast in the KC Irving Centre.
15 May 2012
---
Governor General's Gold Medal to Sara Akin, MSc
Congratulations to Sara Akin, winner of the Governor General's Gold Medal for 2012. The medal is awarded at the Spring Convocation to the top student from any graduate program in the university. Sara was supervised by Dr. Peir Pufahl and completed a thesis on the "Sedimentology and Stratigraphy of the Paleoproterozoic Frere Formation, Western Australia: Implications for the Evolution of the Precambrian Ocean." By logging core and mapping outcrops, she demonstrated that the iron formation deposit in Australia records variation in oceanic oxygen levels, and produced a model that shows sulphidic conditions in the Precambrian ocean were not as widespread as previously thought. After graduation, Sara is heading to Houston, where she will be working in the oil and gas business.
30 April 2012
---
Donnelly Archibald wins the 2012 Gelinas Award
Donnelly Archibald is the winner of the 2012 Gelinas Award of the Volcanology and Igneous Petrology Division of the Geological Association of Canada for the best MSc thesis in the field of volcanology and igneous petrology. The medal will be presented at the business meeting of the division during GAC/MAC Annual General Meeting in St. John's in May. Donnelly's MSc thesis was co-supervised by Drs. Sandra Barr (Acadia) and Brendan Murphy (St. FX) and entitled "Field relations, petrology, and tectonic setting of the Ordovician West Barneys River plutonic suite, southern Antigonish Highlands, Nova Scotia".


20 April 2012
---
Acadia Students Participate in the APGNS Ring Ceremony
Eight students from the graduating class in Geology participated in the annual ring ceremony for the Association of Professional Geoscientists of Nova Scotia. In doing so, they take their second step (we hope their years at Acadia were the first step!) in the journey to become a Professional Geoscientist. Pictured above are Jason Willson, Shaun Todd, Justin Drummond, Vincent Murphy, Amanda Isnor, Kacper Halama, Paul Kobler, and Andrew Nette, along with students from other universities in Nova Scotia. The event was held at Dalhousie University on 5 April 2012.
[Click on image for larger picture]
11 April 2012

---
ASU (Acadia Students' Union) Leadership Awards
Kelli Armstrong, 4th year Environmental Science student, was awarded the ASU Leadership Award (2011-2012) for her contributions to the diverse needs of the student body while serving on Student Representative Council this year as its first Equity Officer. Kelli sits on a number of committees, not only within the ASU, but in the Acadia community in general. She has been most involved with the ASU Wellness Committee, the WGS (Women & Gender Studies) Program Committee and the Review Committee for Acadia's Policy against Harassment & Discrimination; the latter of which, she is the only student representative.
Sarah Sweet, also a 4th year Environmental Science student, received the Senior of the Year Award (awarded to a student who excels in leadership in their fourth year of studies at Acadia) for her work for the Student Representative Council, Acadia Senate, Senate Committees, Organization of the Sprout a 7 Campaign, and for the combined initiative (Sarah and William Roberts) to bring new water fountains to campus.
Patrick Englehardt, Environmental Geoscience major, received The Ruth Petrykanyn Memorial Award. It is presented annually to a student entering the final year of undergraduate studies, who has made significant contributions to the enhancement of student life at Acadia University. This award is in memory of Ruth Petrykanyn.
Dr. Ian Spooner received the ASU Leadership in Teaching Award.
Congratulations to all!
Kelli Armstrong, Ian Spooner, Patrick Englehardt, and Sarah Sweet.

---
Environmental Science Alumnus nominated for BC Premier's Award

Tony Pesklevits, alumnus of 2002, now works for the Ministry of Aboriginal Relations and Reconciliation in British Columbia, and recently was nominated for a Premier's Award for the work he does with the aboriginal communities in northern BC, focussing on negotiations for land, mining and resource issues development. A short video of his nomination is posted on Youtube: Tony Pesklevits: A Well-liked Guy and Go-To Problem-Solver.
27 March 2012
---
Named Chairs Awarded to Sandra Barr and Rob Raeside
The two named chairs in Geology were awarded at a ceremony in the KC Irving Environmental Science Centre on Tuesday, 13 March. The J. Austin Bancroft Chair was awarded to Sandra Barr in recognition of her extensive research, teaching and service record in the department since 1976. Previously held by Reg Moore, the chair was endowed in 1963 in memory of Austin Bancroft, graduate of 1903, and professor in the early 20th century. The Edwin David King Chair was awarded to Rob Raeside, in recognition of his activities since 1982. The chair was endowed in 1930, in recognition of Edwin King, graduate of 1863, prominent lawyer in Halifax, and member of the Acadia Board of Governors for 46 years.

Sandra Barr and Rob Raeside receive the Bancroft and King chairs.
13 March 2012
---
Science Atlantic (Environment) conference at Mt Allison University
Four Acadia students recently attended Science Atlantic, a conference hosted this year by Mount Allison University, in Sackville New Brunswick. The conference highlighted current graduate and undergraduate work in the disciplines of Biology, Aquaculture and Fisheries, and the Environment. From the Environmental Science program, Emily Walker gave an impressive presentation on her honours research, which focuses on the symbiotic relationship between white spruce and fungal endophytes. Kaycee Morrisson, also an environmental science undergraduate honours researcher, presented her work on the benthic habitat of the FORCE tidal energy area of the Minas Passage. Kaycee was awarded 2nd place in the oral presentation undergraduate category.
The three day conference included many other presentations from students across the Maritime region. Presented research focused on a multitude of environmental topics ranging from dendrochronology as a teaching tool, to the power held by NGOs and their role in climate change negotiations, to new wastewater treatment techniques. The conference hosted two keynote speakers; Dr. Ian Mauro, Canada Research Chair in Human Dimensions of Environmental Change, speaking of how the Inuit perceive and are affected by climate change from their point of view, and Dr. Paul Snelgrove, Canada Research Chair in Boreal and Cold Ocean Systems, who is intimately involved with the Census for Marine Life and an advocate for protecting the biodiversity of our oceans.
Adam Godfrey and Monica Reed, both environmental science students with plans of pursuing honours, also attended the conference. The two enjoyed the experience, gained a lot of insight, and would encourage other students wishing to pursue honours to attend a conference as an observer. We (Monica, Emily, Kaycee and Adam) would like to thank Dr. Nelson O'Driscoll for taking us to the conference!

Nelson O'Driscoll, Adam Godfrey, Emily Walker, Kaycee Morrison and Monica Reed at the conference
9 March 2012
---
Shaun Todd on Trinidad field course
Fourth year student Shaun Todd participated with invited representatives from Acadia, St. FX, St. Mary's and Dalhousie in Dalhousie's Petroleum Geoscience Fields Methods Course in Trinidad. Led by Dr. Grant Wach, students ventured across the island from February 18-25th, following "the sand grain to the sea", seeing excellent examples of distal to near-shore environments. Students then turned the knowledge gained from the outcrop, to core logging, sequence stratigraphy and reservoir characterization exercises. This course is a great experience and introduction to the oil and gas industry. Many thanks go to Grant Wach and Hasley Vincent for organizing a fantastic trip and making sure no students were lost and preserved in Pitch Lake.
Shaun, safely distant from the Pitch Lake.
4 March 2012
---
Paper on "Oxygenation of the Earth's Atmosphere-Ocean System" released

Peir Pufahl and Eric Hiatt's paper on the oxygenation of the early Earth is currently one of the most downloaded papers in Marine and Petroleum Geology and one of the most accessed articles through SciVerse's Science Direct. This invited review paper evaluates the Great Oxidation Event, the most significant change in atmosphere-ocean chemistry in Earth history. This rise in oxygen occurred between 2.4 and 2.3 billion years ago and set the stage for the evolution of multicelluar life. A balanced, multi-disciplinary approach is advocated for understanding the Great Oxidation Event so that we can begin to fine-tune what is known about this important event. The paper will be available in hardcopy in the April volume of Marine and Petroleum Geology.
1 March 2012
---
Atlantic Geoscience Society Colloquium, 2012
The Department of Earth and Environmental Science was well represented at the 38th Colloquium and Annual General Meeting of the Atlantic Geoscience Society, held on Feb. 3rd and 4th at the Delta Beauséjour in Moncton, New Brunswick. A total of 24 undergraduate and graduate students and 4 professors attended the conference, which included both oral presentations and posters on Friday evening and all day on Saturday. Also as part of the meeting on Friday, 12 of the Acadia students went on the tour of an underground potash mine in Sussex, New Brunswick, as guests of PotashCorp. Some students were excited to have been given an opportunity to try their hands at operating some of the heavy equipment in the mine!
Eight Acadia students presented results of their thesis work in poster presentations, and BSc Honours student Amy MacFadzen won honourable mention as runner-up for the Graham Williams best poster award for her poster entitled "Petrology of the Indian Lake and Leadbetter Road plutons, Antigonish Highlands, Nova Scotia". Ronald Massawe gave an oral presentation on his MSc thesis work, co-authored with his supervisor Dr. Cliff Stanley and entitled "Lithogeochemistry of host rocks to the Bisha Cu-Zn-Au volcanic-hosted massive sulphide deposit, Eritrea". Dr. Stanley also gave a presentation co-authored by former MSc student Biniam Bisrat, and John Murimboh on "Partial digestion geochemistry of Nova Scotia soil samples: monitoring digestion conditions to understand how samples leach". Sandra Barr received an informal "award" for being a co-author on the most presentations (2 oral and 5 posters) while managing to avoid being the lead presenter on any of them.

Amy MacFadzen presents her poster
In addition to the conference presentations, Acadia faculty participated in a number of business meetings, including Atlantic Geology Editors, Atlantic Geoscience Society council, Atlantic Geoscience Society business meeting, and Science Atlantic Earth Science Committee, and Dr. Ian Spooner served as coordinator for the projection equipment for the oral presentations.
In addition to the formal proceedings, the conference provided an opportunity to liaise with faculty from other universities and industry representatives about on-going research projects and collaborations. Acadia students seemed impressed by the range of earth science topics covered in the conference presentations and a number of continuing students are looking forward to their turns to present next February, when the conference will be held in Dartmouth, NS!
13 February 2012
---
Students visit Paleontology lab

A short article in the Halifax News relates the fun two school students had when they visited Peir Pufahl's lab last Christmas. "[Dr.]Pufahl gave us a private tour of the laboratories and his own classroom showing us fascinating specimens of animals, minerals and fossils. We looked through microscopes at incredibly thin slices of igneous and sedimentary rocks which were surprisingly beautiful in polarized light. The latter teemed with signs of ancient life in the form of minuscule clams and brachiopods." See the full story at http://www.halifaxnewsnet.ca
20 January 2012

---
New book by Nelson O'Driscoll
Congratulations to Nelson and co-editors Guangliang Liu and Yong Cai on the release of their text "Environmental Chemistry and Toxicology of Mercury", published by Wiley. The book explains the environmental behaviour and toxicological effects of mercury on humans and other organisms, and provides a baseline for what is known and what uncertainties remain in respect to mercury cycling. The chapters focus on the fundamental science underlying the environmental chemistry and fate of mercury. Comprised of four parts that present an overview of mercury in the environment, mercury transformations, transport, and bioaccumulation and toxicology, each chapter of Environmental Chemistry and Toxicology of Mercury includes the basic concepts of the targeted subject, a critical review of that subject, and the future research needs. This work will be invaluable to a wide range of policy experts, environ-mental scientists, and other people requiring a comprehensive source for the state of the science in this field.
ISBN: 978-0-470-57872-8 - available from Wiley also as an ebook
8 January 2012
---