Archive of news items 2018
Peir Pufahl at Phosphate Days, Morocco
23 November 2018
Prof. Peir K. Pufahl just returned from Morocco where he presented a plenary talk at Phosphate Days 2018, an international conference focused on phosphate fertilizer research. His talk on the economic geology of sedimentary phosphorites was very well received. Dr. Pufahl is looking forward to new research partnerships with colleagues from Mohammed VI Polytechnic University and OCP Fertilizer Group in Benguerir. His CFI-funded lab in the new David Huestis Innovation Pavilion, which investigates all aspects of phosphatic fertilizer ores, is central to fostering these new collaborations.
---
Carson Brown, CSPG speaker
7 November 2018
Students at Acadia welcomed Carson Brown, CSPG University Outreach Speaker to the department on 5 November. His talk, "Career Advice from a young geoscientist in the petroleum industry" provided many tips for graduates from the E&ES department, seeking employment in the energy field.
His discussion focused on the current state of the Canadian oil and gas industry, setting the stage for advice on what students can expect from a career in oil and gas and how best to market themselves to potential employers. He provided examples of advances in digital computing and the future of data analytics and moves to implement the opportunities provided by them to drive down costs.
At the conclusion of his talk, Garrett Velkjar presented him with a gift from Acadia.
---
Rain, wind and science at the AUGC 2018
5 November 2018
Ten Acadia students and professors attended the 68th annual Atlantic Universities Geoscience Conference in Dalhousie University on the first weekend of November. The weekend began with an Ice-breaker at Dalhousie on Thursday evening, in preparation for field trips on Friday. Most of the Acadia students participated on the early starting Parrsboro field trip, led by Tim Fedak (Nova Scotia Museum). The weather was mild, but the rain was heavy as they searched the shores at Wasson's Bluff for faults and fossils.
The field participants at Wasson's Bluff
The field trip enjoyed freshly deposited sand and equally wet sandstone.
Anthony Chu, Acadia's photographer with happy students by the sea stack.
Friday night was the CSEG Challenge Bowl, where the Acadia team took fourth place, and on Saturday the scientific presentations. Ten oral papers and seventeen posters were presented, ranging across all areas of geoscience. The winning presenters are shown below:
Jacob Newman (Memorial), Mattea McRae (Memorial), Brant Gaetz (Memorial), Kali Gee (St. Marys), Garrett Velkjar (Acadia), Liam MacNeil (UNB).
Winner of the Science Atlantic Presentation and Communication Award was Liam MacNeil (UNB), for his paper on Reconstructing paleoproductivity in the North Water Polynya employing diatom microfossils. Winner of the Imperial Best Poster Award was Mattea McRae (Memorial University) for here poster Comparing CO2 sequestration experimental methods and investigating CO2 sequestration using type I and type II serpentine groundwaters. Winner of the Canadian Society of Petroleum Geology Award was Brant Gaetz (Memorial University) for his paper Geophysically constrained microplate fragmentation model, and terrane-controlled evolution of Mesozoic basins - rifted North African borderlands, offshore Newfoundland, Canada. Winner of the Canadian Society of Exploration Geophysicists Award was Jacob Newman (Memorial University) for his poster Numerical and experimental observation of nonlinear responses from the interaction of two progressing waves at an interface. Winner of the Frank S Shea Memorial Award was Kali Gee (St. Mary's University) for her paper Origin of epithermal-style gold mineralization in the eastern Cobequid Highlands, Nova Scotia: constraints from S isotopes and pyrite trace element chemistry. Winner of the Atlantic Geoscience Society Award for Environmental Geoscience was Garrett Velkjar (Acadia University) for his paper Decoupling sources of natural and anthropogenic impact using lake sediment archives: an example from Cecil Lake, Fort St. John, B.C.
Acadia winner Garrett Velkjar receiving the AGS Environmental Geoscience Prize.
Acadia delegation to the AUGC.
Garrett Hooey showing his work on mineralization in Cape Breton Island
Crystal Smith showing her work on mineral dispersion in till from East Kemptville.
---
First year class enjoys fall colours with slate
24 October 2018
The first year Geology class is running its third field trip in labs this week. On 23 October, they enjoyed fine weather, colourful leaves and finely bedded slate.
Here Dr. Sandra Barr expounds on the significance of bedding and cleavage in the slate of the Halifax Group near Lumsden Dam.
---
ESSA and Fletcher Club clean the beach
23 October 2018
ESSA and Fletcher Club went to Halls Harbour on 21 October to clean up the beach. Some of the "treasures" they located:
Messages in a jar - these jars made it around from Port Williams to Halls Harbour!
General junk - lots of plastic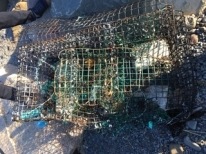 This one appears to be an abandoned lobster trap.
Definitely not junk here - thanks clean-up crew!
---
Fletcher Club & ESSA go rafting
18 October 2018
The Fletcher Club and ESSA went rafting on the Shubenacadie River at the point of the spring tides in October.
Much fun was had by all as they surfed the tidal bore and got thoroughly drenched in the muddy water!
---
Rob Raeside presents at NAVA meeting in Quebec City
18 October 2018
Rob Raeside was invited to contribute a paper to the NAVA (North American Vexillological Association) meeting in Quebec City on 12-14 October, following an earlier paper he delivered in August 2017 at the International Vexillological Congress in London, England. The paper, entitled "National and Provincial/Territorial Symbols in Municipal Flags in Canada: Patriotism at the Community Level?" examined the use of the maple leaf, the beaver and the Canadian Pale as national symbols and floral emblems, maps and flags as provincial emblems in over 1000 municipal flags across Canada. Based on the preponderance of maple garlands in coats of arms and the ubiquitous fleur de lys, it appears that Quebec is Canada's most patriotic province!

Photo by Ted Kaye
---
Sarah Dunn recipient of Greg Somerville Award in Innovation
17 October 2018
Graduate student Sarah Dunn was one of two recipients of a new award, the Greg Somerville Award in Innovation at a donors' dinner on the occasion of the opening of the new David Huestis Innovation Pavilion. The award, established in 2018 by David Huestis ('63), is granted in recognition of exceptionality. It demonstrates achievement academically and socially, through community service, student leadership, and innovation.
Sarah received her BSc with Honours in Geology in 2017 and is now working toward her MSc degree on clastic rocks in north Wales under the supervision of Dr. Peir Pufahl.
---
Petrology field trip to South Mountain Batholith
11 October 2018
Igneous Petrology (Geol 3403) students and their professor (Sandra Barr) and TA (Alicia Moning) enjoyed a field trip to look at granite varieties in the South Mountain Batholith during their lab on October 10th. Although the sun did not shine, it did not rain either, and the rocks and Fall colours were enjoyed by all.
Photographs by Alex Whitney and Ashton Baich show the great scenery (and cooked metasedimentary rocks) at the last stop near Vaughan, south of Windsor.
Olamide and Miguel get close up with the granite as other class members look on.
Deep in the woods, Charlie and Caleb find more varieties of granite.
Alex provides a selfie of him and a happy Ashton as class members search for outcrop.
Well baked metapelite in the Vaughan gneiss.
---
First year class visits Horton Bluff
4 October 2018
On the afternoons of the first week of October, the first year class left the lab to visit the outcrops at Horton Bluff. This was the second of three field trips for the students in the GEOL 1013 class, with a visit to the volcanic rocks at Ross Creek in September, and the South Mountain Granite later in October. Here Sandra Barr is instructing the class on the geology of the Carboniferous sedimentary rocks at Blue Beach, famous for its Romer's Gap fossil assemblage.

Sandra Barr instructing the students after arriving at Horton Bluff.

Examining sedimentary structures in the Horton Group and searching for amphibian tracks.
---
Acadia participation in Joggins 10th Anniversary
25 September 2018
Joggins Fossil Cliffs celebrated 10 years as a UNESCO World Heritage Site last Saturday. A research symposium in celebration of this milestone attracted researchers from across North America. Acadia sent the largest contingent with seven researchers and students. It was a fantastic day of great talks and a geo-tour of the cliffs. Thanks to Melissa Grey, Curator of Palaeontology at Joggins, for organizing such an outstanding symposium!

Participating from Acadia were: standing 6th from left Dr. Suzie Currie, 12th from left Dr. Peir Pufahl, fifth from right Alexandra Harvey, 4th from right Alex Squires, 3rd from right Jackson Malone, second from right Francisco Gomes, kneeling second from right Dr. Melissa Grey (adjunct), on right Sarah Dunn.
---
Archaeology Field Work in Grand Pre
23 September 2018
Students participated in first of two weekend Archaeology field exercises in Grand Pre on 22-23 September. They reported beautiful weather and lots of great "finds" from a location at the Battle of Grand Pre.
---
Fletcher Club field trip to Noel Shore
17 September 2018
Members of the Fletcher Geology Club enjoyed perfect weather for a field trip to the Walton area on 15 September. Led by Rob Raeside, the group visited Rainy Cove to see the folded Carboniferous rocks, the Triassic unconformity and the modern sandbar deposits. Low tide at mid-day allowed for an excursion well out on to the tidal dunes.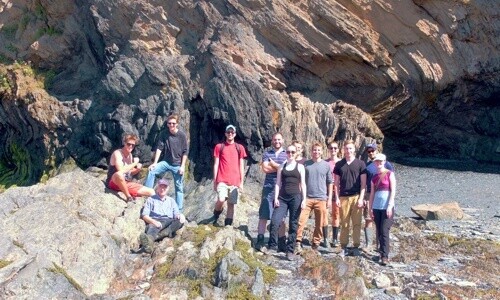 Following lunch at the Walton lighthouse, the participants investigated the spectacular folds of the Horton Group.
The final stop at Burntcoat Head gave an opportunity to see the sandier units of the Triassic Wolfville Formation.
---
Visiting scientist Maisa Abram
29 August 2018
We welcome Maisa Abram and her partner Francisco Gomez, who are working at Acadia for the period from August to January 2019. Maisa has been Chief of Mineral Research at the Geological Survey of Brazil (CPRM) for the past 14 years, based in Salvador, Bahia, working on mainly igneous and hydrothermal mineral deposits. She is now working on phosphate deposits, as part of a PhD project at the University of Bahia, and has come to Acadia to work with Peir Pufahl on these rocks, using the newly installed XRD and CL facilities and the SEM in the ACMA.
Francisco Gomez is a mining geologist who has worked on iron and graphite deposits in the past, but now is especially interested in Ti and REE sources. He is hoping to improve his English also during his stay in Nova Scotia.
---
E&ES 2018 newsletter now available
23 August 2018
The Department of Earth and Environmental Science has released its latest newsletter.
---
Acadia at 20th International Sedimentological Congress in Quebec City
20 August 2018
Alex Squires presented her MSc thesis research on the oceanography of Spanish ironstones at the 20th International Sedimentological Congress in Quebec City. The ISC is the largest meeting of sedimentologists in the world with ~1,000 attendees from over 90 countries. Alex's talk was very well received and showcased the high calibre of research in E&ES. Her findings will be submitted for publication in a peer-reviewed paper co-authored with co-supervisors Peir Pufahl and Brendan Murphy.
Also attending the conference were Dr. Peir Pufahl and former honours student Nabil Shawwa, who presented the results of his MSc work at the University of Geneva.
---
Acadia E&ES programs featured in Maclean's
10 August 2018
Posted earlier this year on Maclean's Education section, "On-the-ground study with Acadia University's environmental science".
In a small community in northern Nova Scotia, a pulp and paper mill has been spewing contaminated water into the nearby lake for the better part of five decades. Now, the provincial government is calling for Boat Harbour—currently full of black, gooey sediment—to be restored to its original state as a tidal estuary that once carried fresh water to the open sea.
Rarely does an undergraduate's thesis carry so much influence on a consequential project. "I'm over the moon," says Holmes. "It's overwhelming in some senses, but it's exciting. I feel really fortunate to be in this position, to work with these people so early in my career."
At Acadia, that interaction is possible because of small class sizes, ranging from about 40 to 100 students, and access to the field, which gives students the hands-on experience needed to jump into big industry projects immediately after—and often before—graduation.
Read the full article at https://www.macleans.ca/education/geoscience-acadia-university
---
New Irving Scholars announced
30 July 2018
The 2018 recipients of the prestigious Arthur Irving Scholarships in Environmental Studies are drawn from two of Canada' three seacoasts. Sarah Lavallée from West Vancouver, BC and Alex Hart from St. Stephen, NB will enter Acadia in September 2018 to pursue their interests in environmental preservation thanks to academic awards that are among the most significant in Canada and reward students who have exceptional academic credentials, a commitment to volunteerism and community service, and who intend to pursue environmental research.

Established by Arthur Irving, Chancellor Emeritus of Acadia University, and the Arthur L. Irving Family Foundation, these scholarships are awarded to students who have demonstrated academic and leadership skills and who have a commitment to making a difference in how society views and manages our natural environment and its resources. Scholarship recipients will benefit from the world-class facilities available to them in the K.C. Irving Environmental Science Centre and the Harriet Irving Botanical Gardens that will enrich their learning experience. The selected students receive $15,000 annually for four years while they pursue their undergraduate degrees.
Full details of these scholarships and the recipients can be found on the formal announcement.
---
Alice Cohen receives awards
6 July 2018
<figure>
</figure>
Environmental Science professor Dr. Alice Cohen received significant awards and funding this summer. She was awarded an $11,000 Harrison McCain emerging scholar award for her project "Understanding the Role of Technology in Community Based Monitoring". This funding will be used to investigate the success of open-access platforms for sharing information about freshwater health in both the Atlantic Region and the Northwest Territories by conducting interviews with policy-makers in both regions. The datastream for the NWT project can be viewed on the Gordon Foundation webpage.
Alice was also recognised as one of the 2018 recipients of the Faculty of Pure and Applied Science Emerging Scholar award for her work on several water-monitoring policy applications.
---
RFG2018 - Vancouver
<time datetime="2018-06-24T08:25:00-03:00">24 June 2018</time>
Acadia faculty members Sandra Barr, Peir Pufahl, and Cliff Stanley, as well as recent MSc graduate Gabriel Sombini dos Santos, were in Vancouver on June 16-21 to participate in the first international conference dedicated to the availability and delivery of resources to sustain future generations. Resources for Future Generations (RFG2018) was held under the auspices of the International Union of Geological Sciences and organized by Canadian geoscience organizations, including the Canadian Federation of Earth Sciences (of which Sandra Barr is past-president), and the Geological and Mineralogical Associations of Canada.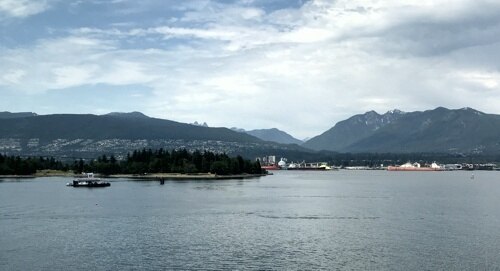 The meeting took place under sunny skies at the scenic Vancouver Convention Centre on the waterfront. Over half of the 2000 delegates at the conference were from countries other than Canada, resulting in a broad range of sessions and panel discussions focused on Earth, Energy, Minerals, Water, Resources and Society, and Education and Knowledge.
---
Congratulations to Lynn Graves - 10 years (and more!) with E&ES
13 June 2018
Congratulations to Lynn for 10 years service in Earth and Environmental Science.
Lynn Graves was recognised for her 10 years of service as the administrative assistant in Earth & Environmental Science at the recent Summer Assembly at Acadia University. In fact Lynn has been with us for nearly 11 years, dating back to the merger of the Environmental Science program with the Geology Department in 2007. Before that she was part-time assistant with Environmental Science, so this 10-year award might be considered a tad late! Thanks Lynn for keeping the place together and for all you do!
---
Acadia grad Greg Edgecombe elected to Royal Society in Britain
12 June 2018
Dr. Greg Edgecombe, alumnus of the Geology class of 1985, was elected as Fellow of the Royal Society on May 9. Greg works at the Natural History Museum in London, England and is considered one of the world's foremost paleontologists.
"It's tremendously flattering. Being elected by an extremely distinguished group of one's peers because they consider your body of work to have the excellence and impact befitting Fellowship is the ultimate accolade for a scientist," said Edgecombe in an email.
Formed in 1660, the Royal Society is the world's oldest independent scientific academy. The London-based organization's mission is to encourage the development and use of science for the benefit of humanity. Nominees are assessed in special panels and on a typical year 600 to 700 candidates are considered, of which up to 52 are elected.
Greg graduated from Riverview High School in 1981, before coming to Acadia University where he earned his BSc in Geology with Honours. He then did an MSc at the University of Alberta and PhD at Columbia University in New York.
He attributes the start of his paleontological success story to his undergraduate experience at Acadia. "An inspiring teacher, Reg Moore, gave me the keys to the fossil collection and let me set up office amidst the cabinets. This was the first time I saw that research had no limits, and it got me hooked on natural history collections", he said. "In 1987, I was accepted for a PhD in what then felt to me like the Temple of Zeus, the American Museum of Natural History in New York. I was given access to remarkable collections from Bolivia and Brazil"
Edgecombe's professional resume is just as impressive as his academic one. He earlier worked as a researcher at the Australia Museum in Sydney, and his current job titles include Research Leader and Merit Researcher at the Natural History Museum, and an Associate in Invertebrate Zoology at Harvard University in Cambridge, Mass.
[Information extracted from an article in the Moncton Times & Transcript]
---
Nelson O'Driscoll at SETAC conference in Rome
21 May 2018
While on sabbatical Dr. Nelson O'Driscoll and Acadia postdoctoral fellow Dr. Sara Klapstein attended the Society of Environmental Toxicology and Chemistry Conference in Rome Italy this May. Hosting several sessions on mercury with international colleagues (Dr. Canario and Dr. Covelli) shown in the picture below and other colleagues from Europe. Several posters of their work also summarized mercury research on Brier Island and in Kejimkujik Park Nova Scotia.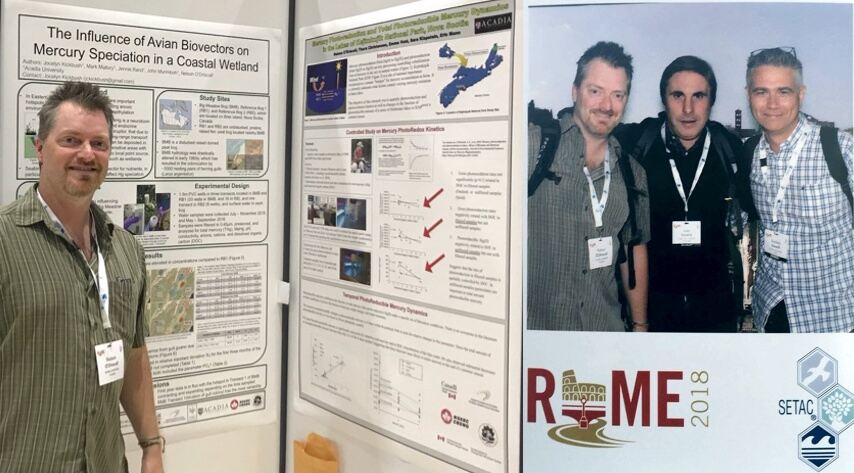 ---
Earth and Environmental Science Graduation 2018
40 Graduates in Earth and Environmental Science at May Graduation
15 May 2018
The weather couldn't have been better - sunny skies and a pleasant breeze as graduating students and proud family members attended the graduation ceremonies at Acadia University. In all, 34 BSc degrees and 6 MSc degrees were recognised from Earth & Environmental Science at the May convocation at Acadia, comprising 3 MSc (Geology), 3 MSc (Applied Geomatics), 2 BSc Honours (Environmental Science), 1 BSc Honours (Environmental Geoscience), 3 BSc Honours (Geology), 14 BSc (Geology), 11 BSc (Environmental Science) and 3 BSc (Environmental Geoscience).
Particular honour went to Jackson Malone, recipient of the University Medal in Geology and recipient of the Mining Society of Nova Scotia Centennial Medal, Kirklyn Davidson, recipient of the University Medal in Environmental Geoscience and Shauna Barry, recipient of the University Medal in Environmental Science.

Brendan Vibert (BSc Honours Geology) and Adam Clarke (BSc Environmental Geoscience) pose with Rob Raeside (University Marshal) after the Monday morning graduation. Photo: Terry Hennigar
---
Sarah Dunn awarded GSA Student Research Grant
8 May 2018
Congratulations to Sarah Dunn! Sarah has been awarded a Geological Society of America Graduate Student Research Grant for her MSc thesis research on Welsh ironstone. She is working with her thesis supervisor, Dr. Peir K. Pufahl, to understand the biogeochemical cycling of iron in the Ordovician and its relationship to biological evolution. Sarah leaves for Wales in early June.
---
Field school relocates to Merigomish
3 May 2018
The Geology field school has now relocated to Camp Geddie, near Merigomish, Nova Scotia. After an informative drive across the province, stopping to look at Carboniferous sedimentary rocks and deformation, the exercises resumed on the Precambrian volcaniclastic and plutonic rocks at Georgeville (lots of amazonite and whales to watch at lunchtime) and Ordovician ignimbrite and basalt at Arisaig. Cold weather ensured slow and steady map work (we hope!) but a hike along the beach and up the Frenchman's Barn warmed everyone up (even if it doesn't show in the class photo):
Work now resumes at Camp Geddie:
As the week ends, the weather improved considerably. On the barrens at Whitehead, the wind was even warm:
Last day - Knoydart limestone. Blue skies and bare arms - a rare occurrence in early May!
---
Bermuda Field Course, 2018
30 April 2018
Nine students headed off to Bermuda for the annual field course to explore modern and ancient carbonate rock environments.
Bermuda 2018 class picture
Acadia and Queen's students hard at work in the lab at the Bermuda Institute of Ocean Sciences.
Swimming at vadose-phreatic boundary. Mixing corrosion in action!
Dr. Melissa Grey, Curator of Joggins Fossil Institute, lectures about ecospace and how sedimentologists can apply it to understand biochemical facies.
---
Field school 2018
25 April 2018
Term is over so now it is time for field school. Day 2 saw the crew heading out to Fall Brook to map the Glass Sand, surrounding shale and the unconformity on the Meguma Supergroup. Shorts and bare arms? Whatever happened to "it always snows at field school"?
The whole group still happy on Day 2 at Fall Brook. No rain yet...
Day 4: Environmental Science field school spent the day studying soil structures. After digging pits in the woods, they sampled various layers and performed settling experiments. In place of mechanical stirrers, 20 minutes of vigorous shaking was needed:
Laura Evans, Hannah Arsenault-Gallant and Nicole Kirkpatrick demonstrating the technique.
Alexis Mackey, Yekyung Seo, Christine Crognale, Jennifer Sexton, Ben Henger and Julia Crews having fun with it too.
Meanwhile the Geology students were exploring relations between Triassic sandstone and Meguma slate in Elderkin Brook. Thursday's rain raised water levels a bit, but didn't seem to deter students from measuring attitudes.

Photo by Jonathan Publicover
---
Environmental Science grads in Toronto
23 April 2018
Greetings from Toronto!
Yesterday, Emma, Sonya and I went out for brunch together, and thought we would send you a hello from Toronto! The three of us are currently living and working in the big city. Amanda is schooling at the University of Toronto, Emma is managing a non-profit business organization promoting sustainable investment practices, and Sonya is on a work term for her MBA in the downtown Toronto business district. It's been wonderful catching up and exploring different parts of Toronto with Acadia pals. At the same time, it is hard to believe that 1-2 years ago (although feels like yesterday) we were in small-town Wolfville, and are now in North America's fourth largest city! We are all doing well and enjoying this new phase of our lives, although we frequently reminisce about our days at Acadia and living in Wolfville. We are looking forward to visiting the East Coast sooner rather than later. :)
We hope that all is well in the Earth and Environmental Science Department and that you are getting some spring sunshine in the valley.
Cheers,
Amanda, Emma & Sonya
---
Shelburne-Yarmouth field trip
23 April 2018
Every year students completing the Igneous Petrology or Metamorphic Geology courses have the opportunity to put their learning into action on the South Shore field trip. Led this year by Rob Raeside, the group visited locations in the Lahave River-Green Bay area where they met up with renowned photographer Peter Barss from West Dublin, who has been regaling his grandsons with stories from the rocks, appropriately annotated by Rob Raeside!

Photo by Peter Barss: Patrick Henger, Kyle Kucker and Crystal Smith learning about sediment dewatering process by the Green Bay outcrops of the Goldenville Group.
From the Green Bay area, the group proceeded south to the higher metamorphic grade rocks of Shelburne County, culminating in migmatites of Cape Sable Island and the intrusive rocks of the Shelburne and Barrington Passage plutons. Overnighting in Yarmouth, the second day saw them proceed along the western shore of Nova Scotia looking at the younger rocks of the White Rock Formation, although access to the outstanding outcrops at Cape Forchu had to be replaced by examination of the Cape Forchu Harbour breakwater as the Leif Erikson trail was closed for filming a movie.
The trip was blessed with sunny weather and expansive beaches. Here students are examining the slate-tuff contact on the beach at Cape St. Mary.
---
Is it field work if it's under water?
11 April 2018
Ian Spooner is spending early April in the Whistler-Pemberton Valley, BC coring lakes as part of a country-wide investigation into atmospheric lead deposition.
In this photo he is coring Lost Lake near Whistler, a lake that may also hold a record of fire history, an important component of ecological management in the region.
---
Progress on Huggins
10 April 2018
Progress continues on the renovations to Huggins Science Hall. As of the end of winter term, much of the frame of the building is evident, with final cladding up on much of the south face and east face brickwork complete. We eagerly await the final push-out of the corridors (and disappearance of piles of construction materials!) which will give us much appreciated space around the building.
---
Earth Ring Ceremony 2018
7 April 2018
Fifteen Acadia students attended the annual Earth Ring ceremony sponsored by Geoscientists Nova Scotia and held at the end of the winter term at Dalhousie University.
Pictured above (click for larger image): Gabriel Sombini, Cody Reeves, Scott LaRue, George Challenor, Kirklyn Davidson, Dylan Wyles, Alicia Moning, Chad Stines, MaryAnn Kavanagh, Dr. Cliff Stanley, Reid Cameron, Sarah Dunn, Allison MacDougall, Heather McGuire, Jackson Malone, Brendan Vibert
---
End of Year Banquet
28 March 2018
As the school year comes to an end, ESSA (Environmental Science Students Association) organized a final banquet for the department, inviting both ESSA and Fletcher Club members to join. Over 50 students, professors and guests gathered in Clark Commons for the event.

photo by Anthony Chu
ESSA invited three alumnae to address the gathering - Monica Reed, Emily Walker and Kaycee Morrison clearly enjoyed reminiscing about their time at Acadia, revealed some their subsequent peregrinations, and offered words of advice to those still in programs.

photo by Anthony Chu
Emily Walker, Kaycee Morrison, Monica Reed - guest speakers, but great providers of sound advice about moving from Acadia to the world of work!
At the event, students who made their mark (mostly in a good way!) in the past year were also recognised:

photo by Anthony Chu
Left to right, back row: Heather McGuire, Harcourt Cameron Award, Maurice Haycock Scholarship, GAC-PDAC Logan Prize; Kirklyn Davidson, AGS Environmental Geoscience Award at AUGC; Maggie MacDonald, best poster prize at Science Atlantic Environment conference; Jackson Malone, Rupert MacNeill Book Prize; Rachel Clarke, Linda Lusby Award.
Front row: Dylan Wyles, Bancroft Scholarship; Max Chipman, CSPG Prize for best student presentation at AUGC, Rupert MacNeill Prize for best oral undergraduate presentation at AGS conference; Philicity Byers, Pound Family Scholarship.
Not present: Laura Bonga, Irving Scholarship; Liam McLaughlin, Dunn Environmental Scholarship; Crystal Smith, MacNeill Scholarship, MAC Prize; Garrett Velkjar, MacNeill Scholarship.

Special thanks to Anthony Chu for always being there with his camera!
---
Acadia students at Science Atlantic (Environment) conference, 2018
19 March 2018
Congratulations to all eleven Acadia students who attended the Science Atlantic (Environment) conference at Mt. Allison University on 16-18 March, accompanied by lecturer Sara Klapstein. Three of the seven awards went to Acadia presenters:
- First place poster: Maggie MacDonald, "Identification and impact in commercial onion in Nova Scotia"
- Second place graduate presentation: Eileen Haskett, "Response of intertidal communities on a tidal gradient to high and low suspended sediment concentrations"
- KC Irving Environmental Science Centre Award: Brock Burgess, "Nest density of orange-belted bumble bees (Bombus
ternarius)"
The whole Acadia delegation managed to get together for a group photo:
Surprisingly little green considering it was the 17th March!
---
Preparing for the Bermuda field school
13 March 2018
Students in the GEOL 4303 course, Carbonate Sedimentology Field School, are practising their underwater skills in the Acadia pool, to be ready for the exploration of the ocean in Bermuda at the end of April.

Photo: Pam Frail
---
AGS Colloquium in Truro
7 February 2018
The 44th Colloquium and Annual General Meeting of the Atlantic Geoscience Society were held at the Holiday Inn, Truro, Nova Scotia, on February 2 to 3, 2018. Nearly 200 participants enjoyed a full and diverse program pushing the boundaries of geoscience in all its branches. As usual, the event was well attended by industry, government and university participants, including 4 professors and 26 students from Acadia, and many former Acadia students.
Acadia undergraduate students at the closing banquet and awards event (photo: Anthony Chu).
This year's Colloquium started on Friday morning with two well-attended, day-long workshops: (1) Your Career and Public Reporting - A QP Short Course for Students (& others) by Amy Tizzard, Acadia grad of 2003, and sponsored by Geoscientists Nova Scotia and (2) Subsurface Methods - How to use and interpret drill-hole data and other subsurface data for both industry and academia by Robin Adair, outgoing president of the AGS. Poster displays started late Friday afternoon and remained available to view until late Saturday afternoon. Three concurrent sessions ran Friday evening: (1) Rocks, maps, and tectonic models, organized by Sandra Barr and adjunct professors Chris White and Deanne van Rooyen; (2) Advances in Assessing Arctic Geohazards; and (3) a General Session on Igneous rocks, mineralogy and mineral deposits. A highlight of the exhibits was the display of the recent compilations of new geological maps of Southwest Nova Scotia by Chris White, and Cape Breton Island, featuring decades of work by Sandra Barr, Chris White and many Acadia students and faculty.
Sandra Barr and Chris White with the newly published map of Cape Breton Island (photo: Anthony Chu).
Saturday's events started early with several concurrent sessions including: Records of Environmental Change from the Atlantic Provinces and Beyond, organized by Ian Spooner and Dewey Dunnington; Basin-forming Processes during Supercontinent Assembly: New insights from the Devono-Permian Record of Atlantic Canada; The Meguma Terrane: its place in the Appalachian Orogen and Beyond; Paleontology and Sedimentology in the Maritimes and Beyond; AGS Outreach Innovations: Past, Present and Future; Methane Emissions from Legacy Fossil Fuel Sites in the Maritimes; Petroleum Geoscience on the Atlantic Margin; and a General Session on Techniques in Earth Science.
Several Acadia students gave presentations:
Alex Squires speaking on Middle to Upper Ordovician ironstone of the Western Asturian-Leonese Zone, Spain: coastal upwelling, ocean anoxia, and Paleozoic biodiversity (photo: Anthony Chu).
Baillie Holmes speaking on Application of the paleolimnological method in the environmental assessment of effluent-influenced freshwater sediment: an example from northern Nova Scotia (photo: Anthony Chu).
Heather McGuire speaking on A paleolimnological approach to understanding metal mobility and retention associated with salt-water inundation at Laytons Lake, Nova Scotia (photo: Anthony Chu).
Kirklyn Davidson speaking on Application of the paleolimnological method in the environmental assessment of estuarine sediments in a pulp effluent receiving pond: an example from Northern Nova Scotia (photo: Anthony Chu).
Max Chipman speaking on New insights into a brackish Carboniferous ecosystem through the coprolites of the Joggins Formation, Nova Scotia (photo: Anthony Chu).
Saturday evening was the Awards Banquet and Social where following dinner several prestigious AGS awards were presented in recognition of worthy student presentations and professional accomplishments.
Winners of the student awards (left to right): Matt Stimson, St. Mary's University; Kate Woods, Dalhousie University; Max Chipman, Acadia University;, Taylor Ducharme, University of Ottawa; Steven Rossiter, University of New Brunswick (photo: Anthony Chu).
The Rob Raeside Award for best undergraduate student poster went to Taylor Ducharme (University of Ottawa) and his co-authors David Schneider and Mark Coleman for their poster "Resolving episodes of deformation and hydrothermal quartz precipitation in the Amalgamated Break fault, Abitibi Subprovince, Ontario from microstructural and SEM-CL analyses" (photo: Anthony Chu).
The Graham Williams Award for best graduate student poster went to Steven Rossiter (University of New Brunswick) and his co-author Bruce Broster for their poster "Portable X-ray fluorescence analysis of terminal grade in basal till south of the Mount Pleasant deposit, New Brunswick" (photo: Anthony Chu).
The Rupert MacNeill Award for best undergraduate student oral presentation was split between two top talks: Max Chipman (Acadia University) and his co-authors Melissa Grey and Peir Pufahl for his talk "New insights into a brackish Carboniferous ecosystem through the coprolites of the Joggins Formation, Nova Scotia," and Kate Woods (Dalhousie University) and her co-author James Brenan for her talk "An experimental study of the effect of water on chromite saturation in komatiite (photo: Anthony Chu).
The Sandra Barr Award for best graduate student oral presentation went to Matthew Stimson (St. Mary's University) and his co-authors Andrew MacRae, Randy Miller, Steve Hinds, Nicholas Minter and Zabrina Prescott for his talk "A review of Kinneyia simulans: An ichnotaxonomic approach to wrinkled microbially induced sedimentary structures from New Brunswick, Canada."
The new Nelly Koziel Award, given to a person who has recently made a significant contribution to geoscience in the Atlantic Provinces, beyond the call of duty, was awarded in recognition of Nelly Koziel, former treasurer of the Society, and long-term AGS volunteer who staffed the sales table at colloquia, the Nova Scotia Gem and Mineral Show and many other events. The inaugural award was made to Nikole Bingham-Koslowski of the Geological Survey of Canada (Atlantic), who ably and assumed the role of treasurer following Nelly's death last year (photo: Anthony Chu).
Nikole Bingham-Koslowski receiving the Nelly Koziel Award from Lynn Dafoe, AGS incoming president
The Distinguished Scientist Award - Gesner Medal, given to a person who developed and promoted the advancement of geoscience in the Atlantic Region in any field of geology, was awarded to Reginald Wilson (retired from the New Brunswick Geological Surveys Branch) (photo: Anthony Chu).
Reg Wilson receiving the Gesner Medal (photo: Anthony Chu).
After the awards, the guest speaker Deanne van Rooyen (Cape Breton University) gave an entertaining talk entitled "Folds, furs, and flies: Adventures in Northern research" about her exploits in northern Quebec and Labrador.
This was followed by the annual AGS Kitchen Party and open mike, showcasing the instrumental and voice talents of several members of the Mud Creek Boys and other AGS members.
Ian Spooner, Dewey Dunnington and Peter Williams providing a musical interlude (photo: Anthony Chu).